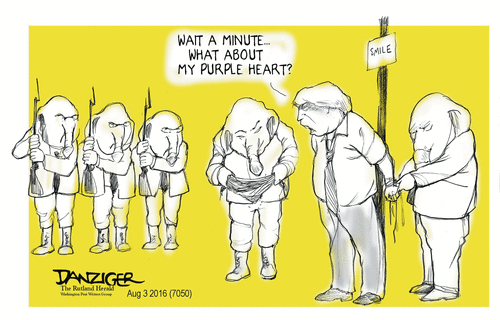 The racism, the sexism, the xenophobia, the raw ignorance — none of that bothered the Big Men of the GOP. But Trump's starting to smell like a loser, and these guys don't hang with no losers.
Rick Wilson, per Politico, is "a national Republican message and media strategist". If he walked in soaking wet and said it was raining, I'd look out the window to see if that were objectively true, or just another sales tactic. But he's a professional, and Trump threatens his profession. Thus, his much-forwarded latest piece in the NY Daily News:
Beat him like a drum: Donald Trump must not just lose in November; to correct the institutions he's broken, he must suffer a humiliating defeat

… The single worst major party nominee in modern history — a man who has no political core, lies practically every time he speaks and is patently unstable — reached this point because every leader and institution in my party, the Republican Party, has failed again and again to grapple with the grim realities of Trump's impact on the election, the conservative movement and the character of our nation.

And so, now, here we are: As revealed by poll after poll, Americans feel worn down by the dirty, ugly character of the dirty, ugly candidate at the top of the GOP ticket.

It's not just that, in the wake of the Democratic Convention, Hillary Clinton has surged ahead in national polls by seven, nine, 15 points. She is far ahead in every state poll that matters. A Friday poll put her up slightly in Georgia, which has been reliable Republican territory in the last five elections.

Trump's entire path to victory has been predicated on winning white men, particularly less educated white men, in droves. Yet he is right now underperforming Mitt Romney's 2012 showing among whites, men, white evangelicals and whites without a college degree, while hemorrhaging every other demographic.

A growing number of Americans are coming to the realization that Trump is more than just a political train wreck; he's a real threat to the nation, what with the fear of nuclear weapons and the sweeping power of the federal government in his tiny paws…

Trumpkins don't deserve a participation trophy for wrecking the party and saddling the nation with Hillary. They made the crazy the enemy of the good, and centered an entire campaign on rage, fear and an eternally shrinking spiral of cult-worship and fanaticism. They dragged one of America's great political parties from the back of a truck.

To begin to repair the damage done, they need to see not that their way almost succeeded, if only one or two states had broken differently. They must absorb the painful reality that their way cannot, will not, ever work again…

I want to be clear here. As a principled conservative, I loathe the high likelihood that Hillary Clinton will — barring a bear attack or some other unforeseen externality — win this election.

She'll nominate liberal Supreme Court justices. We'll lose religious liberty. We'll have our Second Amendment freedoms compromised. Chuck Schumer's immigration bill is going to be so bad it will make many of us beg for the Gang of Eight.

However, Trump would be far worse. He'd be more dangerous to our safety and our republic. And since I know his loss is coming, I pray to God that it is total. You should, too.
Not gonna press these latter-day #NeverTrumps to my bosom or anything, but I'm more than willing to have them help us give Hillary the landslide she deserves. It won't "purge Trumpism", but hopefully it'll send the worst of the Trumplodytes scurrying back to their native fever swamps.
***********
Apart from all that, what's on the agenda as we start another week?