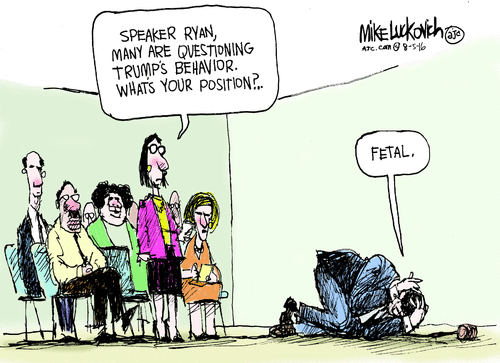 Universally respected commentor LAMH, last night:
@AlGiordano So Paul Ryan's primary is tonight…he's just the type of coward to un-endorse Trump only after he wins that primary

— Nelly B (@psddluva4evah) August 9, 2016
Well, the Zombie-Eyed Granny Starver won his primary last night, for all the joy it'll bring him:
JANESVILLE, Wis. — House Speaker Paul D. Ryan (R-Wis.) reveled in the aftermath of his commanding and expected primary victory Tuesday against Paul Nehlen, a Donald Trump-inspired opponent, by ordering cheese curds and beer for his supporters.

But Ryan's celebration will be brief, with the skirmish only the latest in this tempest of a year for a Republican Party churning between Ryan's traditional conservatism and Trump's flaring populism…

A self-described "movement conservative" whose politics are rooted in the tax-cutting platforms of Republicans past, Ryan has been uneasy from the start about parts of Trump's candidacy and especially its tenets on trade and immigration.

Nonetheless, the GOP's 2012 vice-presidential nominee has swallowed hard and endorsed Trump, intent on stitching together his party where possible as he labors to get voters to notice "A Better Way," the six-pronged policy outline he crafted and unveiled earlier this year, which has proposals to reform poverty programs and cut federal spending…
Deadbeat Donald is spoiling Pauly's Ayn Rand wet dreams of slashing social services for Those People while providing additional tax relief to America's Makers. And the godsdamned circus barker isn't even gonna win!…
Paul Ryan keeps calling on local reporters, hoping for questions not about Trump.

They keep asking about Trump.

— Josh Barro (@jbarro) August 10, 2016
Maybe Ryan can get through the next 91 days claiming to have been too busy to know what Trump has said or done.

— Josh Barro (@jbarro) August 10, 2016
RYAN: Mike's in a horrible position now.
TRUMP: Mike?
RYAN: Pence.
TRUMP: Mike Pence. Right.
RYAN:
TRUMP: Is that a ballplayer, or…?
RYAN:

— Owen Ellickson (@onlxn) August 9, 2016
Apart from another tasty schadenfreude breakfast, what's on the agenda for the day?