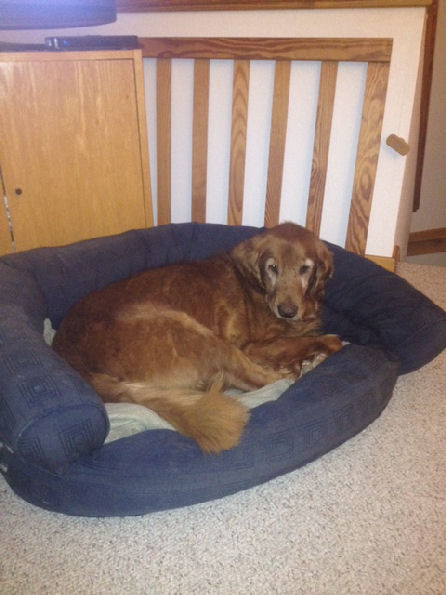 From commentor Juju, who lost a dear companion this week:
The pictures are of Martha in her first, and probably only ever dog bed, and after her first convertible ride this spring, after I finally got my old bug running again. She was a Triad Golden Retriever Rescue golden retriever. TGRR's vet said she was at least ten, and had had a rough life. Her family moved and just left her behind. She lived on her own for a number of months, long enough to get heartworm. My mother and I adopted Martha after our previous golden rescue Isabel/Bizzy died.

We went to meet Martha after we went through the adoption process. I believe the foster mom was on the fence about keeping Martha, but wasn't sure, and TGRR had a sure thing with me and my mother, who wanted to adopt an older dog, and that is not always the case. When we arrived at the foster home, and the foster mom saw me with Martha she decided that Martha needed to go with me. I was bending over to talk to and pet Martha and I heard the foster mom say, " Oh, Martha needs to go with her, they have the same color hair." We took Martha home that day.

We discovered over the almost three years we had Martha that her life must have been close to a living hell before she came to us. She had been hit by a car and sort of put back together, but kind of unevenly. This didn't show in pictures, but in person you could tell something wasn't quite right. You could also tell someone beat her, my guess was daily, or nearly daily, because she cringed if you made sudden moves and yelling really upset Martha. We had her for four months before I ever heard her bark and she only barked five times in all the time we had her. When she did bark she always had that "please don't hit me"look.

I don't think she had been inside a house before her foster home, because the sound of beaters or of a food processor scared her at first, and the vacuum cleaner was the scariest thing other than thunderstorms.

However, one of the things that upset me the most about Martha's prior treatment, is the way she behaved in cars. Martha loved to go for car rides, but when she got in the car she cringed when she settled down in her seat, like she expected to be hit. I think it must take an extremely sick person to encourage a dog to do something they enjoy and then beat them for that.

I worked to make sure she knew that that no one would ever hit her again for anything. Over time, she cringed less and less, but it never completely went away. The people at TGRR said that Martha won the doggie Powerball. I think Martha felt the same way.

Martha and I were meant to be together. We both had red hair and white faces, big feet and weird eating and sleeping habits.

I am so glad I got to adopt Martha, and if anyone in the Balloon Juice community has the opportunity and ability to adopt an older dog, do it. For me, it has been one of the best things I have ever done. I will miss Martha so much.
***********
Apart from giving our own fourfoots an extra hug, what's on the agenda this morning?