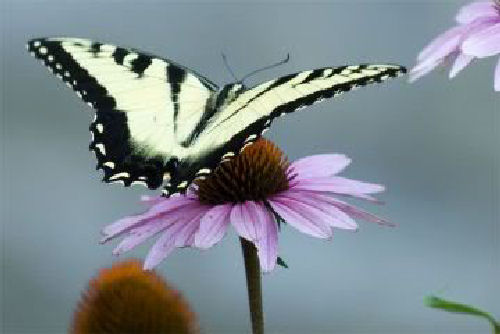 From longtime commentor Bella Q:
I get garden envy every Sunday, and while I don't have any (recent) photos I do have some swamp milkweed seeds I just collected. I'll send some to anyone who trusts me with an address, or to you for distribution.

I'm attaching a posed butterfly pic from years ago. I saw it as we were leaving the house and commanded Mr. Q to go get his camera. He noted, quite reasonably, that the butterfly was unlikely to wait until he returned prepared for a photo. He was wrong.
If you're interested in the swamp milkweed seeds, send me an email at annelaurie dot verizon dot net, and I'll forward your message to Bella.
***********
I'm finally starting to get full-sized ripe tomatoes. But it's been a penance to do anything outdoors — we're in a drought, but the humidity's been preternaturally high all month — my poor tomato plants are limp-leaved, and I need to start spraying Serenade more consistently if I don't want the various blights to conquer the whole lot. First World problems!
What's happening in your garden(s) this week?