Jonathan Cohn reports on report on Aetna's strategy on linking Exchange participation and the rapid approval of their merger.
the move also was directly related to a Department of Justice decision to block the insurer's potentially lucrative merger with Humana, according to a letter from Aetna's CEO obtained by The Huffington Post.

TLDR: Nice exchanges there, be a pity if anything happened.
One of the states Aetna pulled out of is Pennsylvania. This is odd as a friend of the blog pointed out to me offline. Below is Aetna's rate application memo for the individual market in Pennsylvania. You should look closely at the highlighted segment.
Aetna was profitable in 2015 in the individual market in Pennsylvania. It is projecting to be profitable in 2017. The filing memo was drafted in late May and submitted to the Pennsylvania regulators in early June. Conditions have not changed enough to make Pennsylvania a money loser in under two months.
My wee bit of cynicism bears fruit. Aetna is trying to logroll an anti-competetive merger with on-Exchange political consequences. If it works for Aetna/Humana it burns a bridge to get the merger, and if it fails, it puts Aetna on the shitlist of any Democratic administration. That is a very interesting strategy when it is highly likely that there will be another Democratic administration.
UPDATE 1: Here is the relevant chunk of the 2016 Aetna filing memo for Pennsylvania.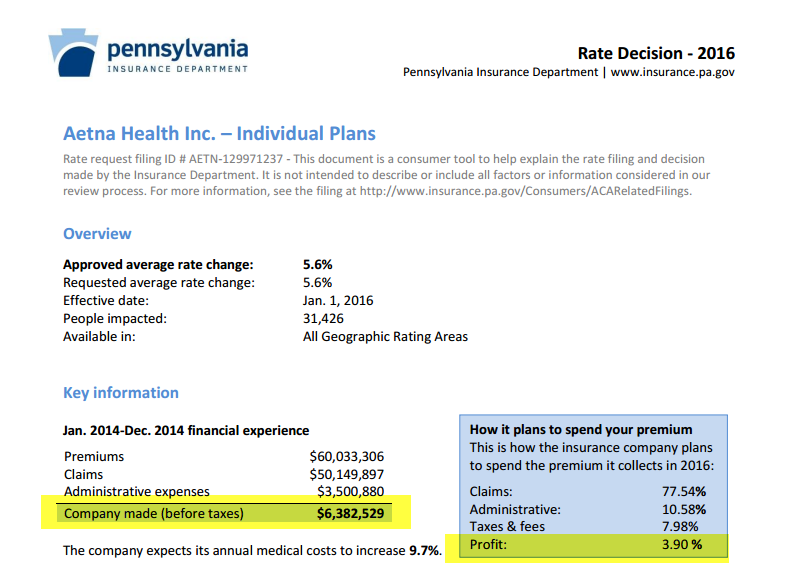 So in all years Aetna's individual market operations in Pennsylvania were either profitable or projected to be profitable. Something stinks worse than a wrestling team's locker room after two-a-days.