Back from Japan, Juicers! Wow, I'm only gone for two weeks and look at everything that's been going on here! People have been buying homes, rescuing sweet dogs, getting shortlisted for major prizes, and cited by major newspapers. Great work everyone!
Here are some of my recent accomplishments:
1) Managed to NOT confuse the "flush" button with the "emergency" button in the toilet, as I did last year when accompanying my partner to a meeting at Doshisha University in Kyoto. (Nothing like exiting to the sounds of an alarm and into a concerned crowd!) Partly this was due to excellent signage, as per this on the Shikansen (bullet train):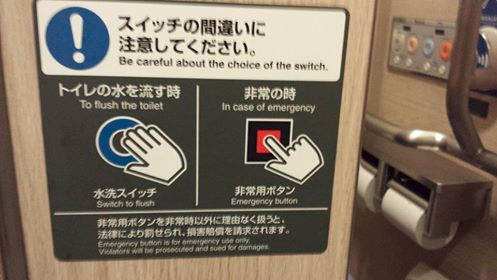 In Doshisha everything was in Japanese, so I made my best guess, and guessed wrong.
2) Hung out in a Catbus. Happy to report that the Ghibli Museum (dedicated to the works of anime master Hayao Miyazaki), which has always had a Catbus for kids, now also one for adults. It's fun! Even if all we boring adults did was sit sedately in it instead of crawl all over it. (Internet photo because you're not allowed to photograph in Ghibli.)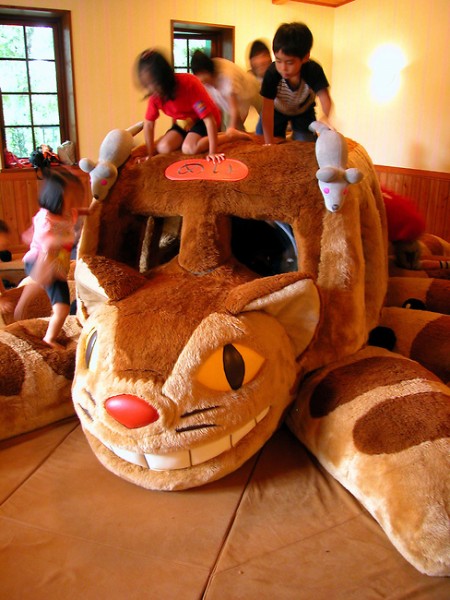 3) Visited a coed onsen (spring-fed hot bath). Hey, even most Japanese women won't do this! No pics, because what happens in the onsen stays in the onsen. However, let me just say that it's amazing—at least to this insular American—how nonsexual a room full of naked, sweaty people can be.
4) Got to watch superb, nearly commercial-free, jingoism-free, and unobtrusively commentated Olympics coverage on the Japanese equivalent of PBS. (Which again raised the perennial expat/tourist-in-Japan question: "Why can't we have such nice things back home?") And, finally…
5) Remained blissfully removed from all things Trumpian—seriously, it was a downer to arrive at Narita airport for departure and see The Odious One on TV for the first time in weeks.
More to come…it was a successful vaca in that I wasn't ready to return. But I did miss you all, and am happy to be back and posting!