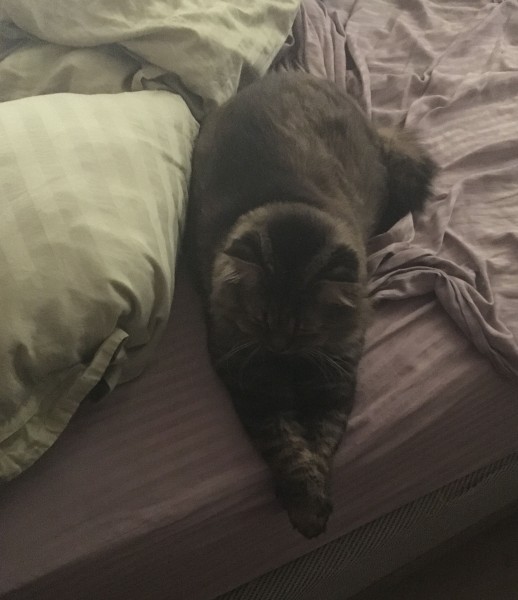 Let's get the important shit out of the way. The duvet cover and pillow cases are light green and the sheets are a lavender cover. My tastes sucks/blah blah blah, whatever.
At any rate, I have noticed that my relationship with Steve has really changed this summer. He's so much more affectionate than he used to be, and I wonder if he is finally ready to accept this as his forever home. He was never standoffish, but now he is approaching Tunchesque levels of being a good boy. Constantly on my lap when before he would only come at night, follows me around a great bit more when in the past he would do more of his own thing, and at night, when he used to sometimes come in and sleep for a while, he now comes running when I yell bedtime and is right behind Lily and Rosie, bitching so I don't shut the door.
Then as I fall asleep, he is right by my left side, and grooms himself for a bit, then makes me pet him for a bit, and then he props his front paws on my chest and falls asleep (as Maine coons like to do because of their hips). It's kind of sweet, and non pet owners (are there even any here at Balloon Juice) won't understand, but I notice a big difference. Could it be the haircut, too? I hope it isn't that, because then I will feel terrible that he felt so bad the last few summers.