Kentucky released their revised Medicaid waiver application earlier this week.  We had looked at their draft application a few months ago.   The base story in their draft application was that people on Legacy Medicaid would barely be touched by the institution of road blocks, bureaucratic barriers, confusion and add-on requirements.  The Medicaid expansion population that is currently being served by a straight Expansion would be hit by the creation of Health Savings Accounts, lock-outs, job training requirements and half a dozen other systems of friction to get people to not sign up.
I am a firm believing that budgets are profoundly moral documents and the draft document's solution to customizing Medicaid was to make it more confusing while serving fewer people at higher trend rates.
The final version was released and there is minimal change in the budgetary outcomes.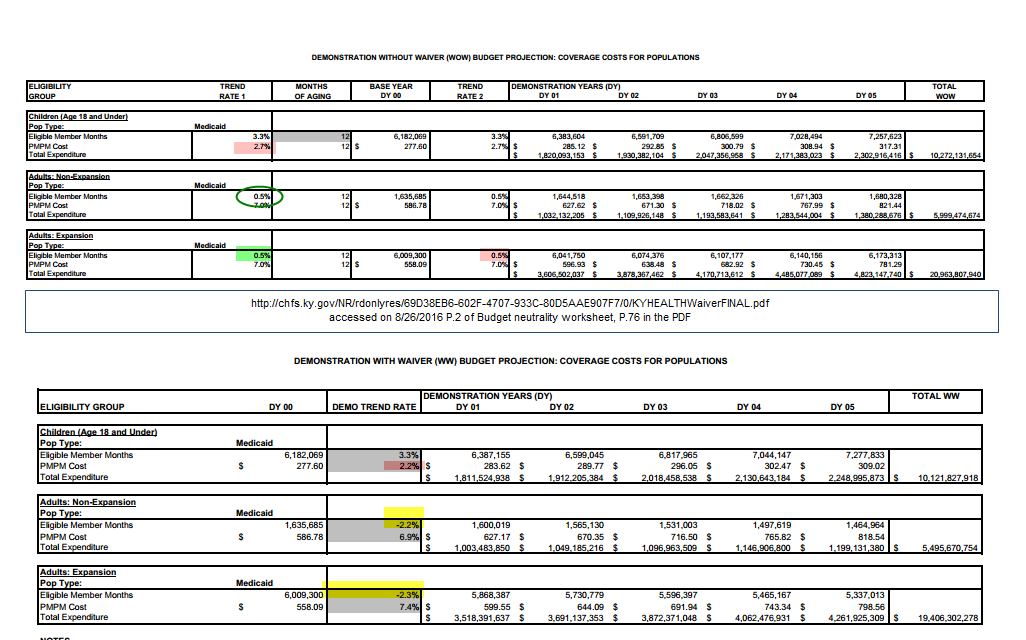 Again the plan is the same.  Magic pixie dust will be sprinkled on the kids in Medicaid to bring down their trend cost rate but most of the enrollment side barriers won't touch the kids.  Adult Legacy Medicaid which in Southern states means the completely disabled, poor pregnant women and extraordinarily poor working parents will see an annual 2.2% decline in enrollment instead of half a percent increase.  Roughly one in eight member months that Kentucky anticipated covering with no change will now not be covered.  The cost trend rate will be roughly the same.  That implies the people who are not being covered are costing roughly the same as the people who still have coverage so it is not a matter of kicking out the healthy people and only covering the sick as that would have had at least a one time bump in per member per month (PMPM)  cost trends.
Medicaid Expansion adult is where things are still very screwy.  The enrollment gains will be reversed at a higher rate than the Adult Legacy population.  At the end of 5 years, 13% fewer member months will be covered.  This time, the cost trends hint that the actuaries project that healthy/low utilizing people will be the ones driven from the program as we see a noticable bump in trend PMPM rates.
Medicaid 1115 waivers are supposed to cost the Feds no more money.  This proposal meets that criteria.  They are also supposed to be at least coverage neutral.  This proposal fails miserably on this aspect.  The next best alternative to approving this waiver is the continuation of the status quo and a forty seven page technical response document by CMS staff.  The threat by Governor Bevin to pull out of Medicaid entirely is a non-credible threat as that destroys Kentucky's medical system.