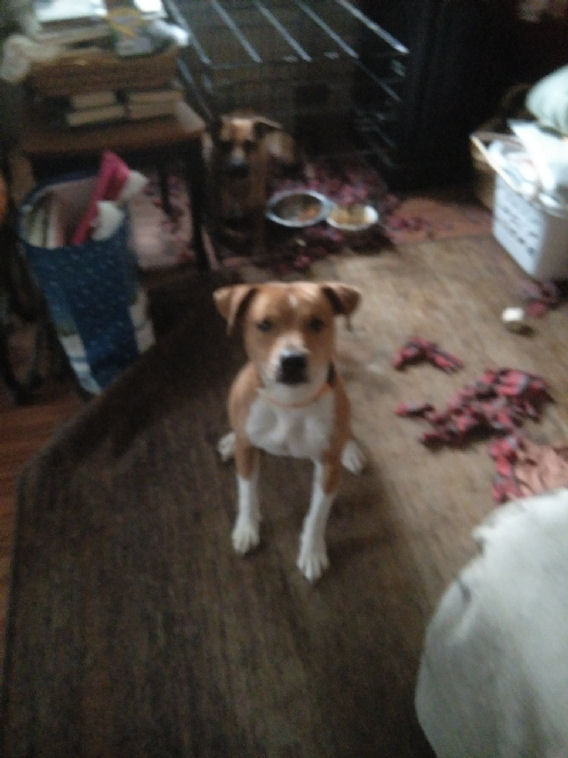 From beloved commentor Satby:
I mentioned on various threads I had a previously adopted dog come back, ostensibly because he supposedly bit the owner's mother on the foot. I know the backstory, mom and her hubby both are alcoholics, and later the story changed to mom being bit because she was holding a broom. My guess is that when the owner wasn't around mom was abusive. I think the owner, who was in tears when he brought the dog back, suspected that too.

The dog's name is Bubba, a beagle-Boston terrier mix, and he's shown no aggression at all. I really pushed this sweet boy with Safer testing to try to see if he'd snap at me. Nothing, not a nip or a snarl, only a waggy tail and cuddles. He gets along with the other dogs and cats, he's been fine with older kids (as a smaller dog I wouldn't adopt him out to a family with a young child), but he's a bit timid until he knows he's safe. He is crate trained, but in my house he has his own room (the bathroom) for his safe place.

I hate to break Bubba's heart because he's clearly happy to be home again with old Rosie and Hershey; but in my new home I will already be over the city limit with the dogs I have and may need to foster the younger ones out if I get busted. So I'm hoping to find a home with people who can appreciate this guy's sweet and sensitive nature and would like an obedient and loyal little friend.

I want to keep him in the Midwest region so that I'm available just in case a new home doesn't work out, but I don't believe that will be a problem. He's a good boy who went to a loving owner, but the owner's situation changed when mom moved in.

The top photo is him sitting pretty, with Shiva: Destroyer of Sheets and Dog Beds glowering in her cage behind (she's a bit of a bully to my old girl, they take turns being out).
Photo at the bottom is Bubba with Hershey in the background.

If someone is interested they can contact me via the Etsy shop.