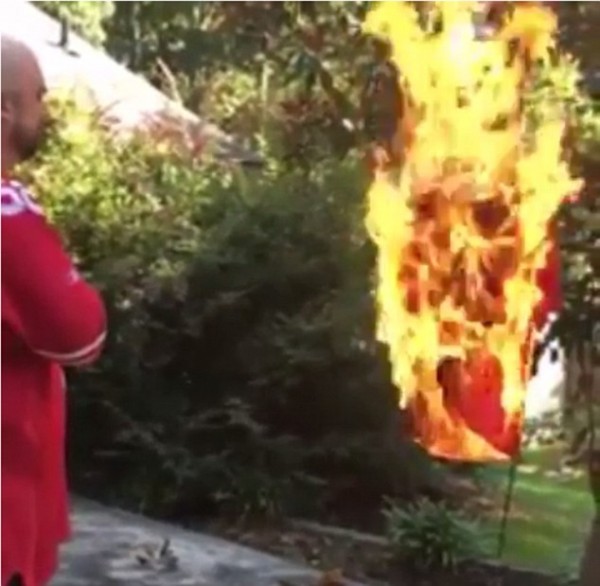 The ability of people to get offended by shit that doesn't impact their lives in any way is amazing:
Furious San Francisco 49ers fans are burning Colin Kaepernick jerseys after he refused to stand for the national anthem as part of a racial protest.

One fan even played The Star-Spangled Banner as he set light to the Number 7 shirt, watching with his hand on his chest as it was reduced to ash.

Another, who uploaded a video to Instagram under the handle Nate3914, called the $19million-per-year athlete an 'ignorant son of a b****.'

He added: 'People die every single day defending that flag you refuse to stand for and I won't stand for that.'

'This jersey was the worst $50 investment I have ever had … you should never play in the NFL again, move to Canada.'

Thousands of football fans also took to Twitter in order to shout down Kaepernick's protests, accusing him of being unpatriotic, spoiled, and childish.
First things first- "WHO THE FUCK CARES?"
Second, there was already reason enough to burn Kaepernick jerseys before the other day: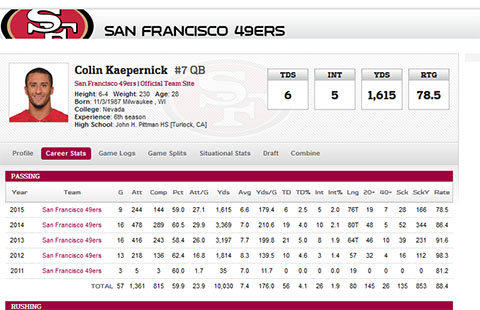 I'm not even going to get into whether or not his statement was right or appropriate, because whop fucking cares?
People don't die every day defending our freedoms. The vast majority of our military exploits since World War II have been basically military adventurism and over-reactions, and/or attacking the wrong damned country. Our actual constitutional freedoms, with the exception of the 2nd amendment, have been under assault by lawmakers in the defense of the failed war on drugs and protecting Hollywood and software developers, but no foreign agent has been attacking them.
Soldiers and police do die every day defending the law and fighting the war on terror, but that hasn't defended your freedoms. That's kept you safe, maybe. The War on Terror itself has been used repeatedly to attack your actual Constitutional freedoms.
So if you want to thank someone for defending your freedoms, along with soldiers and police, thank the ALCU, the SPLC, the Innocence Project, and other folks who are waging a day to day unheralded battle to defend your freedoms.
And if soldiers were dying every day to defend your freedoms, they would be defending Kaepernick's right to be a dickhead and not stand during the national anthem, for BLM to protest police, and for people and police union's to say all live matters, and basically everything that someone says or does that pisses you off.
Because freedom means letting people do their own thing, and not sheltering you from things and get hurt feelings from things that offend you. And you know what? If the NFL and the 49ers want to do whatever they can to get rid of Kaepernick, so long as they honor their contractual obligations, fine.
That's how things work when you are an adult.