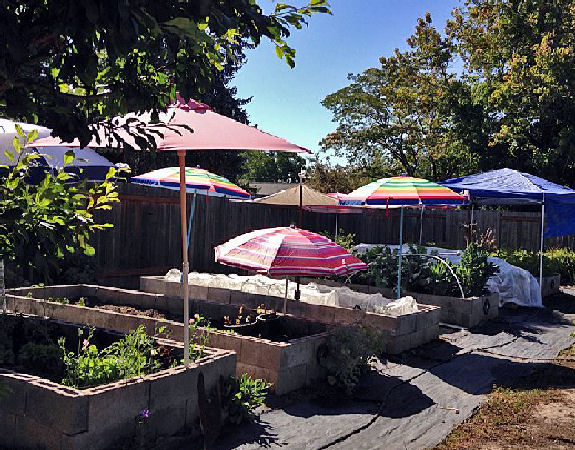 From ever-faithful Garden Commentor Marvel:
We're doing well and getting busier by the day, harvest-wise.

Our run of cool days changed with a vengeance last week (highs over the weekend of 103, 106[!] and 101 followed by a couple of century-marked days this week) so, breaking out an assortment of umbrellas purchased over the years at End-of-Summer Sales, we opened Bistro Gardens. We spent much of our time hosing down the guests.

We harvested the onions last month and they've been drying/curing in the breezeway, getting ready for their off-season stay in the garage. This year a fair number of them bolted (you can thee the hollow flower/seed stalks here) and won't be suitable for long-term storage. We'll dice & freeze about half of these and (here comes the yummy part) the rest I'll cook into quarts of French onion soup (which I'll freeze). Sometimes garden failures work out OK.

Yesterday I brought in some of those odd-but-lovely veggies, kohlrabi….. (Kohlrabi????? What the heck do you DO with it?????)

I'm peeling and slicing them mighty fine, saute-ing a few chopped-up leaves, then cooking it all in a pie with bacon, cream and nutty cheese. We may or may not pick the kohlrabi slices out before eating. The orbs'll last a long time in the crisper, so I'll probably just chop up some and toss 'em in soups later on.

The first batch of pears are out of cold storage & done with their photogenic ripening work on the counter (I caught them sitting here with the dramatic late-day sun blazing through the kitchen window)– it'll be cool enough tomorrow to make some pear bread and maybe I'll steam a big slug of pear juice (for jelly later on).

No pictures of tomatoes — so far this year, with our very cool Spring & early Summer, the plants are full of green, will-they-never-ripen-? fruit and I don't know if any will ever get red. I have a swell recipe for a savory green tomato & apple chutney….
***********
What's going on in your garden(s) this week?