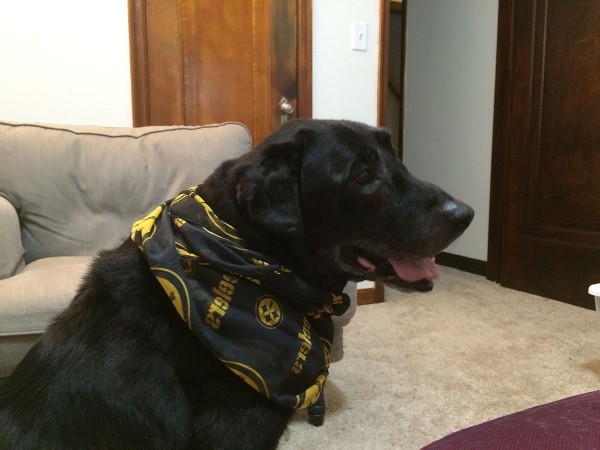 An update on our boy:
Good morning! Here's an update if you want to post it, and a bonus picture. Walter may be in Minnesota, but his support for the Steelers will never waver.

Walter is doing great. He really likes Ellie; laid down next to her at one point and went to town cleaning her ears. He's been a perfect gentleman to the cats, and they are already acting as if he's always been here.

He can't make it up the stairs to my bedroom so I put him in the kitchen for the night with a pet bed. I realized when I woke up that I'd forgotten to remove the garbage can and resigned myself to a mess. Not so! He was a perfect gentleman in that regard too and left it unmolested. No accidents at all. My daughter let him out around 6:00 and he peed, then after I fed him some breakfast he went outside and pooped three times. I was going to put his meds in some cheese, but when one half skittered off the counter as I was splitting it he snarfed it up right off the floor.

He's such a people person. He cried when Tim left last night, and it broke my heart to leave him alone when I finally crashed. He follows us from room to room; right now he's sacked out under my feet in the family room. I was concerned at his panting and hoped it was just anxiety based, and am pretty sure that's the case as he's finally stretched out on his side and breathing normally.

He is such a good, sweet boy. I can't imagine how his former owner could have abandoned him to such a horrible ordeal. All he wants is some love, some food, and comfy place to sleep.

John, I know you and your vet have already taken care of everything that needed to be done, but I'm going to try to get him to my vet tomorrow for a once over. That way my vet knows what we're dealing with.

I want to thank everyone again. Thank you all so much for the donations that allowed Walter to get her, for the emails of support and offers for help, for the comments and encouragement. John, thank you so much for trusting me with Walter's care going forward. I don't know when his journey will be over, but I do know it will end here. He is home.
I just got off the phone with Debit, and she is sitting on the couch with two cats and with two pooches on the floor, so it sounds like things are going well. I was surprised to learn that Walter was a Steelers fan- he neglected to tell me that, but Debit says he is!