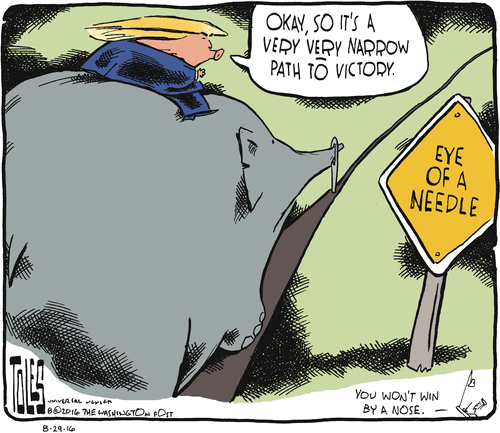 Politico, no doubt prepping for their big post-Labor-Day Amazing Trump Comeback!!! switcheroo:
Donald Trump and his new team think they have 71 days to turn this campaign around. They're wrong…

Trump may not have that kind of time. Early voting begins in 26 days in Minnesota and in 32 other states soon after that. And already, as summer inches to its end, 90 percent of Americans say they've decided. For all the televised daily drama this race has provided, the final outcome itself is shaping up to be less dramatic than any presidential election since 1984.

"Kellyanne is good at this, but she's got a very damaged candidate and it's very late in the game," said Tony Fratto, a GOP operative in Washington and former deputy press secretary to President George W. Bush. "I think it's too late, in fact. I don't believe he can change. All of this is trying to trick voters into thinking there is a better Donald Trump out there. There is no better Donald Trump."

Although Trump has been seemingly slow to realize it, the more than $2 billion in free media he rode to the GOP nomination was simultaneously hardening the broader country's negative view of Trump just as it was endearing him to the conservative base. The cascade of Trump-created controversies following the conventions that precipitated Conway's hiring appear to have irrevocably damaged his credibility as a plausible commander in chief and could prove to be the turning point in the general election itself…

With the electoral map tipping so sharply in Clinton's favor in the weeks following the two party conventions (her lead has widened beyond the margin of error in seven of 11 swing states), Trump's new team is scrambling to stay afloat even with his robust campaign regimen that has him doing four times as many events as Clinton. Recent efforts to muddle the GOP nominee's hard-line positions on immigration — catnip for conservative primary voters but repellent to many general election swing voters — and to couch them in softer language are part of an eleventh-hour effort to broaden his narrow appeal beyond older, mostly white men. Trump's direct overtures to Hispanic and African-American voters last week were made with the same purpose…

Figuring out how to triage a presidential campaign when you're bleeding in every swing state, all of which seem vital, is a difficult enough equation — and that's without Trump spending time and resources last week in places that aren't swing states at all. Trump sandwiched one rally in Tampa, Florida, between appearances in Texas and Mississippi, both solidly red states he's unlikely to lose. And on Friday, his campaign announced a rally to be held Tuesday outside Seattle in Everett, Washington, home to a Boeing plant that ships planes overseas — a location that's well suited for Trump to rail against global trade deals but makes no sense electorally…
The bigger Trump loses, the better for every other American. And if we can tie more down-ticket Repubs' fates to his electoral anchor, better still.
Apart from renewing our GOTV efforts, what's on the agenda for the start of another week?