First, the pictures. Here he is with his new bff, Ellie: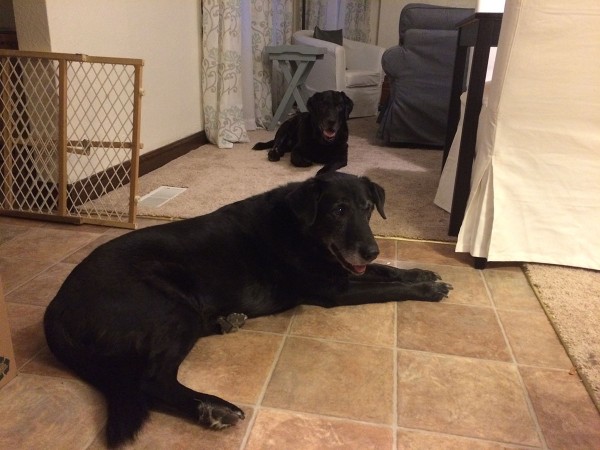 I bet some of you won't even be able to figure out which one he is!
And here he is lying on his new bed: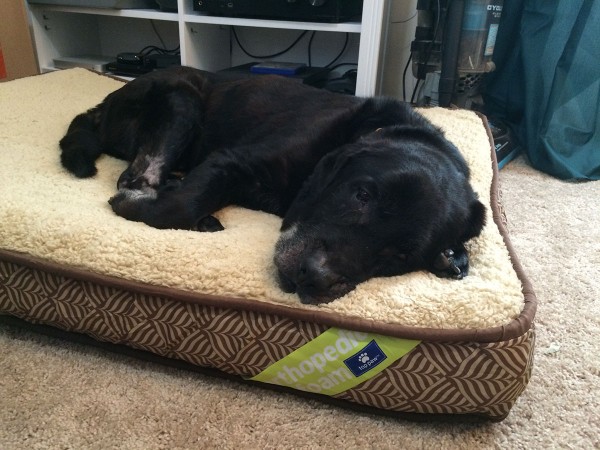 Debit passes along two notes. First things first- apparently Walter makes friends quick:
Did I tell you? Tim called Sunday to check up on Walter. The old guy sure knows how to make friends.
Tim was the driver, who spent only 12 hours with him.
Second, Debit had her vet give Walter a lookover:
He was a huge hit at the vet's office. Both the vet and the tech sat down on the floor to do the exam, and after a few minutes Walter decided to plant his butt in the vet's lap. She was amazed at his progress (I showed her the picture from when you found him) and said to just keeping doing what you'd started: feeding him and giving him plenty of soft places to sleep. She treated his right ear for what she said looked like a chronic infection, and gave me meds to continue in hopes we can clear it up. Otherwise, as a last case scenario, she said an ear canal ablation could be done. It would leave him totally deaf in that ear, but she suspects he can't hear much out of it anyway. They contacted your vet to get his blood work and whoever answered the phone exclaimed, "Walter the Miracle Dog!" :)

I'm taking him back in one month so they can do blood work and see if the Rimadyl is causing any adverse reactions to his liver and/or kidneys. Meanwhile, I'm starting him on glucosamine chews and adding fish oil to his food. She said that he can gain about five more pounds, but no more, as his knees are shot. Short walks of five to ten minutes on grass should be his limit for now, until we see if the supplements are helping. I don't know that he's ever going to be totally pain free, but we'll do out best to get him as close to it as possible. She commented that he'd obviously had a hard life and that if he wasn't outright abused he was neglected to the point it became abuse. I mean, above and beyond the whole being left to starve to death thing.

He was really anxious in the car, and cried a little when we got back in, but once we pulled up to the house he started scrabbling at the windows and actually ran to the back door, tail going a mile a minute. The he flopped down on his bed and went to sleep.

So we're home and all is well. Still no accidents or drama.
Everything seems ok, and Debit still sounds giddy when I talk to her. Wait until I butt dial her by accident a few times.