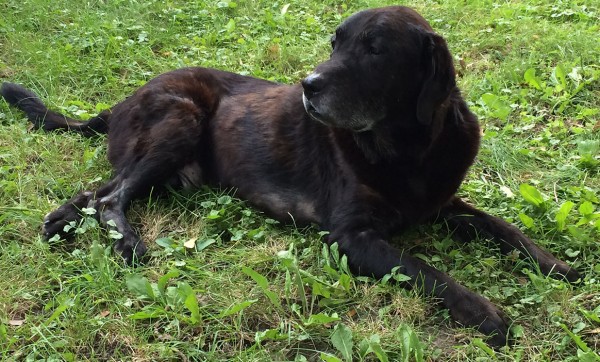 It's hard to believe I found Walter just a month ago and he has already been in his forever home for a week, but time flies, I guess. Debit passes on the following:
I have discovered that:

He does not eat cat vomit. I know this because my daughter did not want to lower herself to clean up a fresh pile and called him over. "Knock yourself out, buddy!" she said. He sniffed, raised a dubious eyebrow and then walked away.

He will eat his fish oil gel caps like they are dog treats. I've been giving them to both dogs mixed in with their breakfast. Ellie normally just wolfs them down with her food, but sometimes she discovers one, rolls it around in her mouth with a thoughtful look on her face, and then goes "ptui." Walter snaps it up off the floor and then snuffles around for more.

He does not house soil. For the first couple of nights I had him gated in the kitchen with a pet bed, but once it became clear that he was not having bladder/bowel control issues he's been given free roam of the house. He's a very, very good boy and will come up and snuffle at me if he needs to go outside.

He found his voice about four days after he came here. He barks to be let in if I don't hang out with him in the yard. If he's outside and someone walks by, or pulls into our driveway, they get a volley of barks, letting them know There is a Dog and This is His Yard. Naturally, once they come in the yard he is all wags and nudges for petting.

However, he is also very protective. He can't make it up the stairs to my room. Except for when we've had service people in that needed to go upstairs. Then he follows us up the stairs and sticks by me.

He's moving so much better. I credit your rehab program: lots of good food, gentle exercise and plenty of love. His muscle tone is improving, as his is energy level. He'll trot around the backyard with his tail up and he's always up for a walk in the park with Ellie.

After one week, it seems as if he's always been here. The cats treat him like they do Ellie; someone to rub up against and hang out with. I've yet to witness them sharing a pet bed, but I know it will happen once winter sets in.

My vet said the bare patches on Walter's elbows are most likely from his having to sleep on bare dirt or concrete. The hair might grow back, it might not. When I bought this house, I'd planned on pulling up the carpet since the hardwood underneath in in great shape. But for now I'm going to leave it. It's less pleasing aesthetically, but it makes me happy to know that Walter can lie down almost anywhere in the house and it will be soft.
Here's a video of him rolling in the grass.
And by request, him barking, because I had never really heard it:
He looks really noble and wise in the picture up top. Also, I have the letter from my vet and spoke with the Sheriff, and we will be pursuing animal abuse charges starting on Tuesday.