One of the major items that came out of last night's Commander In Chief Town Hall on NBC/MSNBC was Donald Trump's repeating his oft stated position that the US should have taken Iraq's oil. I will leave the lively discussion of the logistics of this to others, and just briefly acknowledge that this would have been a war crime even for an officially UN recognized occupying power. What I really want to talk about about in regard to Iraqi oil is where Iraq's oil is. Almost every map that I saw linked to, tweeted, posted, and/or referred to last night looked something like this: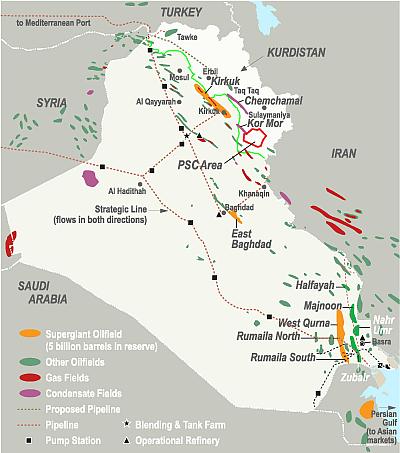 (Map 1: Iraq Oil Map)
There is only one problem with this map, and the similar ones that were shared/referred to last night: they're incomplete! This is the accurate map of where Iraq's oil actually is: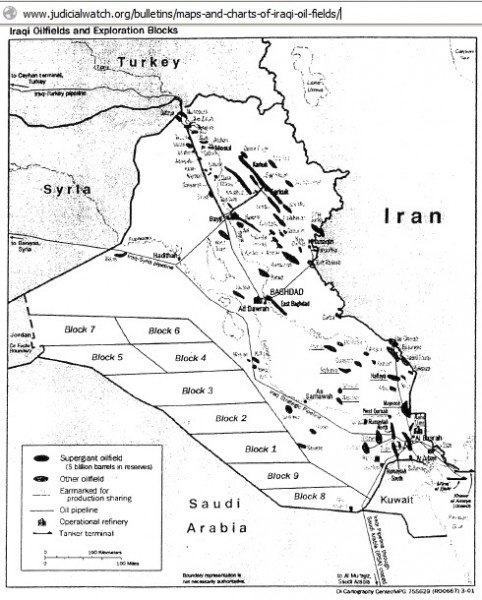 (Map 2: Iraq Oil Field Map with Exploration Blocks)
Interestingly enough Judicial Watch FOIAed Vice President Cheney's Energy Working Group back in 2002 and before Vice President Cheney shut the release of records off this was one of the items released. I first heard about this map in 2003 or 2004 when Greg Palast was interviewed by Keith Olbermann.  Palast is a forensic accountant and had, himself, been looking into VP Cheney's Energy Working Group. He came across the map as a result and eventually wrote the whole thing up as a chapter in his book Armed Madhouse.
But what's really important about this map is its history. So let me tell you a story… In the early part of the 20th Century, around 1912 or so, a young Armenian citizen of the soon to be defunct Ottoman Empire was becoming a major player in the early petroleum industry. His name was Calouste Sarkis Gulbenkian, but he is better know as Mr. Five Percent. Gulbenkian basically established what would become the Iraqi petroleum sector – his fee/reward for doing so was a 5% stake, hence his nickname. The map above is a representation of the estimates of where Iraq's oil was, updated to include where exploration has happened. But compare it to Map 1 – you'll notice the exploratory blocks are missing. There's a reason for that. And that, my friends, is where the story really gets interesting.
Gulbenkian got 5% and the Seven Sisters Oil Company and their early controlling interests, which would eventually evolve into OPEC, got 95% of the rights to exploration. This was all part of something called the Red Line Agreement and Map divvying up the Middle East's oil. Part of the little known history is that a decision was made, based on the exploratory blocks in Map 2, to keep Iraq's oil in the ground. Palast details this history in his book, but the decision was made to treat Iraq like a strategic oil reserve.
When my teammates and I were getting ready to deploy to Iraq, but before we left training and attached to our Brigade Combat Team (BCT), we went through three different initial cultural preps of the operating environment. This was because they kept moving where they were sending the BCT (third time was the charm!). Initially we were going to Salah al Din Province, near some of the denoted oil fields in Map 1. And this is where I started paying attention to Map 2 as something other than a curiosity. One of my research managers had found an expatriate Iraqi, now a US citizen, with PhDs in agricultural and civil engineering who had worked for Saddam Hussein as the lead on various projects, including some dealing with the petroleum sector. He ran afoul of Saddam, was imprisoned, then Saddam – being capricious – changed his mind and rehabilitated him. Our source, smartly, made plans to flee as soon as he could. And he did so successfully. He graciously agreed to meet with the team so we could pick his brain. One of the questions we were able to ask was about Map 2. Was it legit? Was the bulk of Iraq's oil really along the western border with Saudi Arabia? Was the history of Mr. Five Percent accurate? Things like that. Our source informed us the map was accurate, that the Iraqi Oil Ministry had always known that the bulk of their reserves were along the western border, and that was not where any of the actual exploitation of the resources were being done. He also confirmed that the decision to use Iraq's oil as a strategic reserve from before it was an independent state (and before there was an OPEC) was also correct and that OPEC did, indeed, limit Iraq and Iran to not producing more oil than the other in any given year. This last requirement was supposed to tamp down the historic rivalry, but seems to have made it worse.
Why is any of this important? Quite simply its because the actual bulk of Iraq's oil is in the western areas of Iraq. Specifically in Anbar Province. The Sunni tribes, who first fought us, then allied with us after the Sawha/Awakenings, control Anbar. The other western provinces of Iraq – Najaf and Muthanna are primarily Shi'a – including the holy sites and religious academy in Najaf. The people of these three provinces are sitting on a (black) gold mine. Given that there is virtually no active exploitation in the exploratory blocks along Iraq's western border, taking Iraq's oil isn't just a matter of putting the entire operational US Army on the ground to protect the petroleum workers that are going to pump it out and then the oil's transport out of Iraq. It would require building an entire new set of extraction infrastructure in a hostile environment – both physically and societally hostile to such efforts. And that is provided Map 2, after 100 years, is still accurately indicating where Iraq's oil is. An additional concern is that a lot of Iraqi oil is not suitable for gasoline production as it is not light sweet crude. Rather it has large amounts of sulfur and other compounds in it that make it expensive to convert to anything but heating/fuel oil. This is largely what the refinery at Baiji is producing when its running.