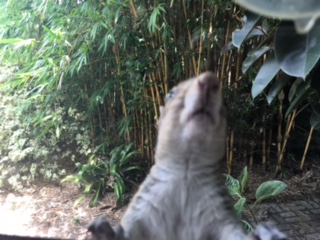 I used to have a clear, cube-shaped plastic bird feeder that was mounted outside on the window right next to my desk via suction cups. It was great for watching birds, and I didn't mind that the squirrels came and gorged themselves too.
But lately, certain squirrels have come to view the feeder as their personal property. They'll hang out inside it. Piss in it. They'll hide out on the roof or in a nearby tree and launch themselves at any other squirrel who tries to use the feeder.
Sometimes, this causes the feeder to fall down. Other times, it causes the feeder to collide violently against the window pane as the squirrels tussle inside it.
The latter began happening so frequently I was concerned they'd bust right through the glass and a squirrel-fight would land in my lap. So when the squirrels knocked the feeder down this morning, I didn't pick it up and replace the seed. I put the clear plastic feeder in the potting shed and deployed a more conventional hanging bird feeder from a bamboo pole.
I can still see it from where I sit, and if the squirrels are willing to work at it, they can swing it around to knock seeds out of it or hang onto a perch long enough to pilfer the contents, but Easy Street in the form of a window-mounted stationary platform is gone. And it's the squirrels own fucking fault that it's gone.
But the squirrels can't accept it. They keep coming back and looking for it, crawling all over the window to try to find it. They'll cover the screened part of the window and then hang onto the sashes, their scrabbly little claws searching the glass part in vain.
Stupid little rodents. They remind me of America. The end.
Open thread!