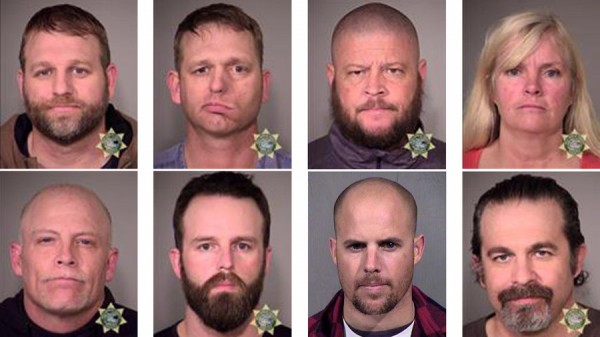 (Worst Episode of Hollywood Squares Ever!)
Much to LAO and Bella Q's delight, the trial for the remaining defendants – as in those who hadn't pled out or had their charges dropped – in the Bundy family led Malheur National Wildlife Refuge Occupation began this week in Federal Court in Oregon. The lines to get in were long! The Prosecution opened up their case today, delineating how the Bundys and several of their codefendants had carefully planned their actions and that they were in clear violation of numerous Federal laws.
Barrow, during opening statements in the long-anticipated Oregon standoff trial, used Ammon Bundy's own words caught on video Jan. 2 to argue that Bundy and his co-defendants aren't being prosecuted for holding a political protest, but for leading an armed occupation of the refuge.

He played a video of Bundy standing atop a snowbank in the Safeway parking lot in Burns in his blue plaid flannel jacket and cowboy hat, declaring, "Those who understand what has happened here … I'm asking you to follow me to the Malheur National Wildlife Refuge. We're going to make a hard stand. … We're going to insist the Constitution be protected here in this country."

"We are not prosecuting the defendants because they don't like the government," Barrow said. "In Ammon Bundy's words, 'This was much more than a protest.' They were taking a 'hard stand.' "
One of Ammon Bundy's attorney's, however, laid out a competing argument to justify his clients actions:
Marcus Mumford, a lawyer for Ammon Bundy, told the court that the peaceful demonstration was an effort to draw attention to the federal government's illegal control and mismanagement of public lands. He said Bundy was attempting to use a provision of the law known as adverse possession to retake land improperly seized by the federal government many decades ago.

"The government has been squatting on this land for years, illegally and contrary to how (the U.S.) Congress intended," Mumford said in a telephone interview on Monday.
We'll be checking in all week, in between restocking the Balloon Juice Bunker – just in case… Those of you readers in NY and Ohio that are on LAO and Bella Q watch – please confirm receipt of your schedules and acknowledge your shift assignments in the comments!