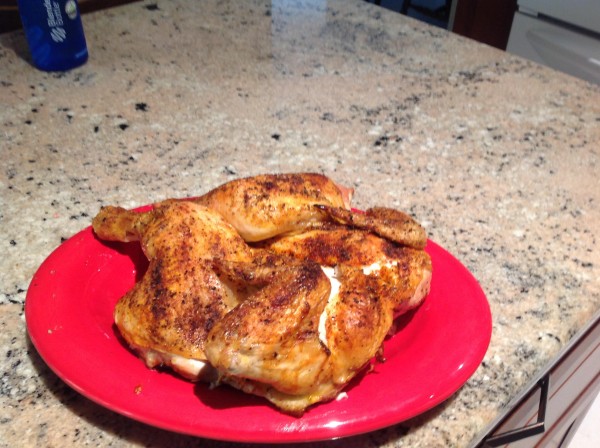 (a spatchcocked chicken preparing to rest)
Actually several hours ago for dinner. Since we've not had a recipe post for a while (cough, no pressure TaMara, cough), I've broken out the frilly apron, the tiara, and got to work. For dinner tonight I roasted a chicken. Specifically I spatchcocked it. For those not up on all the hip, culinary terms to spatchcock is to butterfly a chicken, game bird, or other type of poultry by removing the backbone and then grilling or roasting it. This is done so that the bird has a more uniform shape and the white meat won't get dried out while you're waiting for the dark meat to cook all the way through.
I preheated the over to 500 fahrenheit and cut the backbone out. Then I rubbed it all over with olive oil, then kosher salted, freshly cracked black peppered, and paprikaed liberally. I then placed the chicken onto my broiler pan, which has very nice drainage slits over the foil wrapped bottom catch pan. I inserted my probe cooking thermometer into the meatiest portion of one of the breasts, set the thermometer to go off at 150 degrees fahrenheit, and into the oven it went. You will want to keep an eye on it in case the skin darkens too fast you can lower the oven to 400 degrees, which is what I did with about 15 minutes to go. All told you're looking at no more than 1 hour cooking time for a 7 lbs chicken.
When the thermometer measured the internal temp at 150 I took it out, put it on the lovely platter above, tented it with foil, and let it rest for ten minutes before slicing. I then finished off preparing the mashed potatoes and the lightly sauteed veggies. After ten minutes I drained the pan drippings/au jus into a gravy cup, sliced the chicken, took some more pictures, and took everything to the table. All in all an easy and tasty Sunday supper!