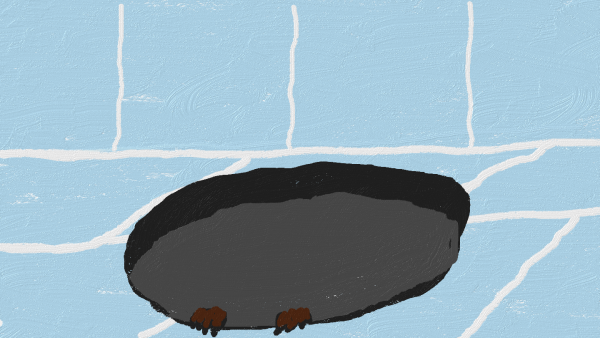 My husband and I get along famously because we're both Pisces. Well, that's not why — astrology is a steaming load of hooey, of course. But we are both gentle, artistic, empathetic souls who would rather make sure other people are having a good time than assert our will over each other or a group.
Our biggest conflict is usually that neither of us wants to make some dumb minor decision like where to have breakfast. Where do you want to go? No, where do YOU want to go? This can go on past lunch.
But that all fell apart the other day because of a toilet. And maybe because now it's just the two of us living here, so we can no longer blame household mishaps on our daughter, who has flown the nest for college.
The main toilet, i.e., the one that's NOT in the master bedroom, overflowed. (HE was the last one who used it, please note!) When it became clear the plunger wouldn't fix the problem, my husband started taking more drastic measures, like snaking the drain.
As he did so, he was doing the usual grumbling about some people using too much toilet paper or not holding the handle down long enough. This is a recurring theme from him that my daughter and I used to roll our eyes at, but this time, it pissed me off because it was obviously directed at me and not womankind in general, which is annoying enough in its own right.
Well! I told him he could just knock it right the fuck off with that bullshit. I reminded him I'm a grown-ass woman who has been potty-trained for decades and that I know how to flush a goddamned toilet, having done so approximately 100,000 times.
And furthermore, I noted that it's ridiculous to complain about women using more toilet paper — duh, we sit down to pee! And I assured him my toilet paper usage was well within normal range, thankyewveramuch, so get the fuck over it already and just fix the fucking toilet or let me call a goddamned plumber.
So that shut him up, and he fixed that toilet. Then a few days ago, the other toilet overflowed. He's been working on it intermittently since, and it came to pass that the entire thing had to be replaced, an operation that is currently underway.
When he removed the bowl, there were these fucking little fibrous roots growing up through the pipe, which is just a horrifying thing, IMO. He poured some chemical down there that may kill every tree on the place, I don't know. I hope not. But all I could think about was naked mole rats or some eyeless rodent from hell using the roots as a highway system to come bite my ass. Wine! Immediately! The end.