NOTE from TaMara: This missed it schedule, I just saw it in the drafts, so have rescued it. Sorry for the delay. Party on Betty.
Scheduling this post ahead of time because I'm tailgating at the University of South Florida-Florida State game this morning. Go Bulls!
Here are the top 25 matchups scheduled for today: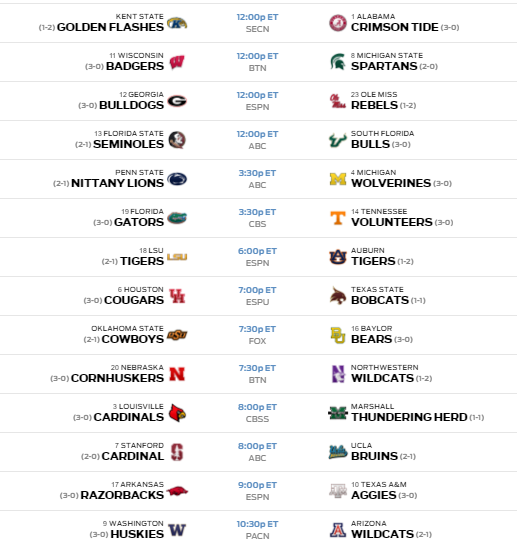 Saw this on Twitter regarding the contest between Florida and Tennessee:
@ESPN_ReceDavis The last time Tennessee beat Florida, these didn't exist:
YouTube
Twitter
Reddit
iPhone
Breaking Bad

— GatorbaitButch (@WillieMud) September 23, 2016
Was there really no YouTube in 2004? Damn. The thing I remember most about that year was the four hurricanes that hit Florida. I believe this year is the first since then for a hurricane to make landfall in Florida. An omen? I hope not. But our starting QB got injured last weekend, so this might be the Vols' year. Or maybe not:
Tennessee fans watched the 4th and 14 play like…. pic.twitter.com/rhx1Zhbl73

— Billy Long (@BillyLong07) September 19, 2016
Have fun and stay safe, everyone!