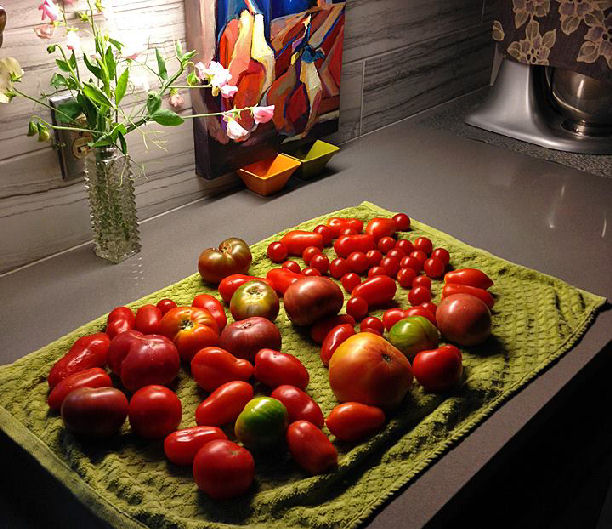 From faithful Garden Commentor Marvel:
We're clearly Autumn-bound, here in the Willamette Valley. The sun's coming in at a good slant, the university (OSU — Go Beavs) is having its first home football game and we're hauling & processing veggies to beat the band. There's plenty left out there to harvest and eat/store in coming days/weeks (e.g., the late potatoes are 'bout ready to dig up; kale, cabbage & brocolli are looking good; the basil's primed for the blender & pine nuts), but it's the tasks at hand that have our attention.

The Summer was fairly mild and the tomatoes showed it — harvest was relatively scant & late…with none to waste, every precious one was brought in and lovingly prepared/processed.

We husked & dried the popcorn (first time we've grown it) and have, in the loudest, most kinetic operation my kitchen's ever seen, wrestled the kernals from their respective ears. Whew. There are vintage hand-cranked shellers (looking much like medieval torture devices and hard to find) and modern, zippy-looking ones (w-a-a-a-y too expensive), but we used tools at hand (me = a sweet corn skinner; Jack = a gnarly pair of pliers). We may not plant popcorn again, given the wrestling required.

The apple crop was good (for us and our organic/no spray ways, anytime we lose less than about 85% to the various bugs [talking to YOU, coddling moth], it's a good year) and I have a swell recipe for a savory chutney using crisp apples and green tomatoes (plenty of those around) — cooked up a double batch of it just this AM.
***********
This year was absolutely THE WORST for my tomatoes in the 20-some years I've been gradually expanding my "garden" from a plastic pot on a rental deck to a whole bunch of 15gal rootpouches on an asphalt driveway extension. Of course I overbought seedlings, but I got everything planted out & tomato-laddered & fertilized in good order and then… well, we're currently under 'extreme drought' conditions. Which wouldn't have been an issue, except that the humidity level hung between oppressive and unhealthy from July into September (all that water & none of it doing our poor plants, or my lungs, any good). I could not bear to spend more than an hour or so outside on any given day, which just about gave me time to keep the raised flower beds and lilacs from drying up once I'd watered the tomatoes. So at least three different varieties of blight hit early & hard, and the few fat green specimens I carefully nurtured got messily destroyed by some bird or small mammal despite the large saucer of water I carefully kept filled for just such visitors (another disaster that hasn't happened in at least 15 years). And the whole yard looks like it was cruelly abandoned, ungroomed and dusty.
I'm trying to decide whether I should order a handful of "essential" heirlooms from my favorite California-based mail-order source right now, rather than waiting to look at multiple sites in February as a mood-lifter. Or if maybe I should just declare a moratorium, and spend next year's green season doing some serious & desperately-needed spadework to revive the rest of the yard…
What's going on in your garden(s) this week?