This fucking guy:
Good morning. Your Republican nominee has been up all night rage-tweeting. pic.twitter.com/mL1ovBY1bm

— pourmecoffee (@pourmecoffee) September 30, 2016
Well, Trump would know from a con. But in this scenario, he is the mark. The D-list political operatives in the Trump organization who are capable of comprehending voter demographics must have been begging their asshole boss to zip it about Machado. But he just can't shut the fuck up about her. He waited until his handlers fell asleep and then went on a rage-tweet tear.
I think on some level, Trump realizes Clinton outfoxed him during the debate. She laid a rake in his path, and he stepped right on it. But his Hindenburg-sized yet fragile ego is unable to process such a scenario, so he's desperately trying to alter reality by stepping on the rake over and over, just as he did in his inexcusable feud with the Khans.
It's difficult to imagine a framing more perfectly suited to alienate the suburban moms whose votes Trump desperately needs than clips of the candidate fat-shaming Miss Universe, rating women's bodies like the leering creep he is and cruelly bullying female employees. Maybe Clinton can set him up to denounce infants, puppies and kittens next.
The beauty of this scenario is that Trump seems determined to flail around and make things worse for the next week and a half. Then he'll stomp into the October 9th debate loaded for bear, a serial adulterer and documented sexist itching to tear into Clinton for her husband's behavior.
And it is a town hall-style debate with questions coming directly from voters, so chances are he broaches that subject with maximum ham-handedness. Popcorn futures are sky-high.
ETA: Also, kudos to CNN for finally mentioning the fact that Trump's "brain trust" comprises gross old sexist pigs who have no standing to criticize Bill Clinton, let alone Hillary: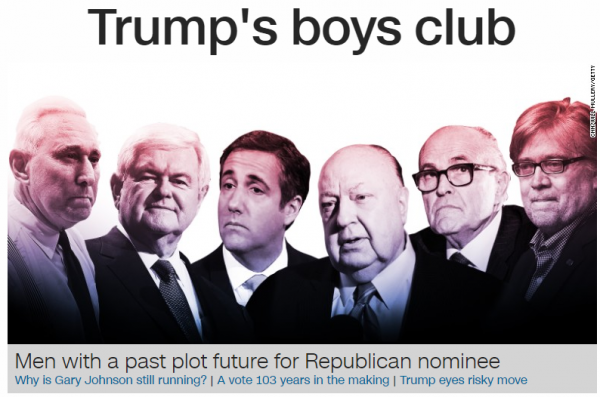 An excerpt:
Days after patting himself on the back for not invoking them on a debate stage, Donald Trump and his campaign are attempting to use Bill Clinton's sex scandals to cast a shadow on Hillary Clinton.

For any candidate trailing by around 20 points with women in most national polling, this plan of action might seem, at best, curiously wrongheaded. But Trump is a special case — the twice-divorced nominee, who carried on a long affair that disintegrated his first marriage in a howling tabloid spectacle, is uniquely unsuited to finger-wagging.

Still, the irony does not seem to have resonated with his campaign brain trust. On Wednesday, they put out talking points encouraging surrogates to chat about Monica Lewinsky, Gennifer Flowers and Paula Jones. A day earlier, Trump (who is overweight himself) hit back at claims he'd body-shamed a former Miss Universe by noting to Fox News that "she gained a massive amount of weight."

Odd, but not surprising. Especially when you consider the rogues gallery of advisers Trump has drafted in over the past few months — a pasty collection of older males, mostly media executives and politicians, with a long rap sheet of marital infidelities, sex scandals and worse.
I've been astonished at how the Trump camp got away with bringing revolting sexual predator Roger Ailes into the inner circle without much blow-back. Glad to see some coverage of this.