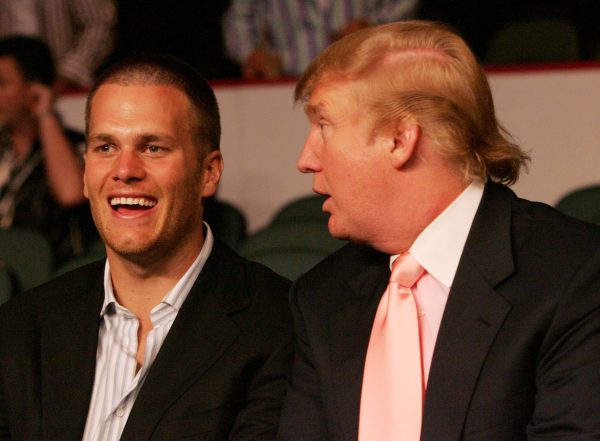 Interesting article over at The Bleacher Report about how Trump's candidacy has divided sportsball locker rooms, largely along racial lines:
In mid-May, as Trump became the presumptive nominee, two NFC teammates—a right-leaning offensive lineman and a left-leaning linebacker—began to re-examine their friendship because of Trump.

They had known each other for four years. Their wives talked on occasion. Their kids sometimes played together. They sat next to each other in team meetings and went to dinner several times per month. They often joked that politics were off-limits because of their disparate viewpoints. Then, after their first offseason team workout in May, the lineman revealed he would be voting for Trump—and everything changed.

The linebacker, a Clinton supporter, began finding excuses for not going to dinner. The families stopped talking. When the lineman confronted his now former friend, he recalls receiving a blunt response: I can't be friends with anyone who would vote for Donald Trump. I'm sorry.
Can't blame the linebacker. I recently found out through another friend that two mutual acquaintances (a couple) are big Trump supporters. I don't know the couple very well, but we've spent enjoyable time together. Receiving that news was like finding out the pair had robbed a 7-11 — they aren't who I thought they were. Fuck them.
From my own observations of fellow white folks, there is a divide, with some recognizing the bigotry at the heart of the Trump campaign — the racism, sexism, anti-Muslim bias, xenophobia, etc. — and others denying it. Until I found out about the couple mentioned above, I didn't personally know a single Trump supporter who I didn't already know was also a bigot. That's why hearing of the couple's support for Trump surprised me. I thought they were better than that. More from the article:
Black players who might otherwise back a more conservative candidate said they have abandoned Trump because they view him as anti-black. Multiple players cited Trump's embrace of so-called birtherism—the lie that President Obama isn't a natural-born citizen—as one of several reasons they dislike Trump.

"A lot of black players believe saying the first black president isn't really American is racist as f–k," one player told B/R Mag.
That's because the birther thing is racist as fuck. Anyone who can't see that is just too goddamned dumb to vote, IMO, like the Trump-supporting lineman:
"That's an issue with this country," said the lineman, who said he planned to vote for Trump. "We can't have conversations anymore. We are too sensitive. It's OK to disagree about things."
Actually, no — it's not OK to disagree about some things, not if you want to retain your claim to my presumption of your basic human decency. Anyway, 33 more days until the Crazification Factor is revised upwards.
PS: It's muggy and breezy here on the western side of FL as Hurricane Matthew approaches the eastern coast. You Easties stay safe, you hear?