New PRRI research released today shows Trump on the losing end of a historic gender gap: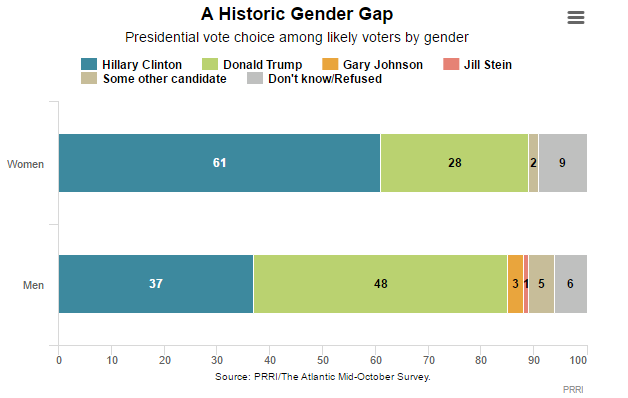 As expected, non-whites favor Clinton over Trump by huge margins (72% vs. 17%), but Clinton is also annihilating Trump among white women with a college degree (68% to 29%), and even white women without a degree are split 40%-40% between Clinton and Trump. The findings can be read in full here.
Meanwhile, the incomparable Sam Bee weighed in on PussyGate and presidential debate #2. The whole show was fabulous, but here's a clip:
Samantha Bee called presidential debate #2 a "grotesque travesty of democracy." Pretty much! As I mentioned yesterday, many of us lady folk were angry and disgusted at the spectacle of a qualified woman like Hillary Clinton being stalked and insulted by hirsute walking Roofie.
Bee says Trump knows he's losing and is therefore prepared to "suicide-bomb" the election. If Trump's Twitter output this morning is any indication, Bee is dead right about that:
Despite winning the second debate in a landslide (every poll), it is hard to do well when Paul Ryan and others give zero support!

— Donald J. Trump (@realDonaldTrump) October 11, 2016
Our very weak and ineffective leader, Paul Ryan, had a bad conference call where his members went wild at his disloyalty.

— Donald J. Trump (@realDonaldTrump) October 11, 2016
It is so nice that the shackles have been taken off me and I can now fight for America the way I want to.

— Donald J. Trump (@realDonaldTrump) October 11, 2016
Uh-oh. He's shaking out the Tic Tacs right now and limbering up the stubby orange fingers. It's time to protect your pussy, America! C'mon ladies — and allies of all genders! Let's knee this sleazy shitbag in the groin and step over his bloated carcass into history!