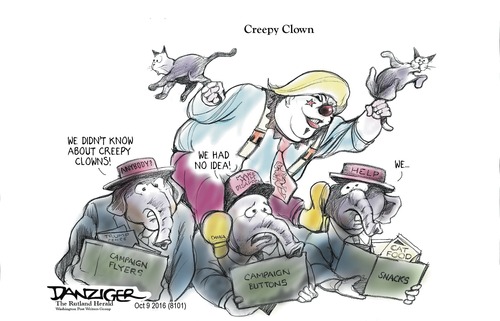 Sure, I like Owen Ellickson's musing on Trump's Scary Clown Army as much as the next person with a somewhat twisted sense of humor, but why must the (mostly) harmless Juggalos be tainted by association with a brutal, coked-up, misogynistic moron like the Repub's presidential candidate? NYMag reports:
The Insane Clown Posse is concerned about your civil rights. In light of the recent rash of disturbing clown sightings being reported across the United States, Time reached out to America's most popular clown-themed entertainers, the Insane Clown Posse, to get their input on the rise of these emotional-terrorist clowns that are freaking people out for no good reason at all. So, Violent J took up the pen and didn't write a defense of clowns so much as he did a takedown of plainclothes villains who are trying to strip the American people — and especially their dedicated Juggalo Army — of their inalienable rights. Violent J begins his op-ed by saying, "After 25 years of unquestionably being The World's Most Hated Band, Insane Clown Posse has just about seen it all." …

As ICP has discovered over the last decade, there's a whole army of scary, terrifying and dangerous clowns out there in this country trying to suppress the rights of thousands of people to exercise the most basic part of the Declaration of Independence, which evokes the freedom to "Life, liberty and the pursuit of happiness."…

These clowns threaten the very fabric on which our nation was supposedly founded upon—and for some f—ing crazy-a– reason, they're getting away with it. From keystone-cop clowns shooting unarmed citizens, to racist clowns burning down Islamic centers or clowns in the NSA spying on us through our cell phones and laptops, America has turned into something far more terrifying than Insane Clown Posse's Dark Carnival. Even a scrub like me who dropped out of school in ninth grade can see what's going on. Today's reality is scarier than anything you'll ever hear on one of our albums…
Man's not wrong, is what I'm saying.
Also, fuckup Donald J. Trump forever and a weekend for making me think sympathetically — however briefly — of Richard M. Nixon. Who was an evil, twisted, sorry excuse for a human being who nevertheless had sufficient respect for the dignity of his party that, when I first saw this meme last night, I thought If Tricky Dick could see this, he'd throw himself out a window.

But he'd throw Donald out first.
Had…….to……..share………… pic.twitter.com/2e2yDaSw6m

— Reisa Miller (@ReisaMiller) October 10, 2016