Some fantastic news, last week, from TripAdvisor:
TripAdvisor, the world's largest travel site, today announced its commitment to launch a set of industry-leading actions, including changes to its policy on selling tickets to animal attractions, and the launch of a new education portal to help inform travelers about the standards of care for wild, captive, and endangered species in tourism and their interactions with tourists, and their impact on wildlife conservation.

TripAdvisor and its Viator brand will discontinue selling tickets for specific tourism experiences where travelers come into physical contact with captive wild animals or endangered species, including but not limited to elephant rides, petting tigers, and swim with dolphin attractions.

While some attractions will cease booking through TripAdvisor immediately, the company plans to have both the educational portal and booking policy changes fully-launched and implemented by early 2017.

TripAdvisor is also committing to the development and launch of an education portal linked to every animal attraction listing on TripAdvisor. The portal will provide links and information on animal welfare practices, helping travelers to write more informed reviews about their experience, and to be aware of opinions that exist on the conservation implications and benefits of some tourism attractions. In turn, TripAdvisor believes that better reviews will enable travelers to make more informed booking decisions and improve the standards of animal care in tourism worldwide….
This is truly wonderful news for at least three reasons:
1) Some of the cruel and callous "attractions" will probably go out of business. (Including, hopefully, the scammy Thai "tiger monastery." ) This, in turn, will lead to…
2) Less animal trafficking, with all its attendant unspeakable ills (brutal kidnappings, families broken up, collateral deaths during shipping, etc.).
And last but definitely not least:
3) It's a huge step in the ongoing mainstreaming of animal welfare concerns.
I use TripAdvisor a lot to plan our trips, but in the past have always done the actual booking on the hotel and attraction sites. From now on, I'll book right on the TripAdvisor site so they get their commission, and if this news delights you as much as it delights me, I urge you to do the same.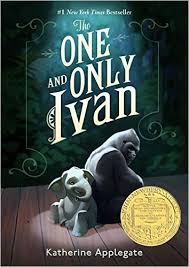 Related: Katherine Applegate's Newbery Medal-winning young adult novel The One and Only Ivan is a sensitive and compassionate fictionalization of the story of Ivan, a gorilla who was kept in the cage in a mall for nearly 30 years. It's a bit early to think of holiday gift giving, but this would be a great one for any animal-loving kid or adult on your list.