New polling results released by Bloomberg today look good for Clinton: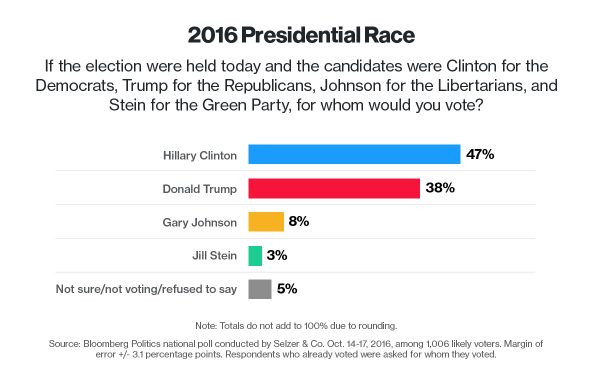 An excerpt from the accompanying analysis:
Democrat Hillary Clinton leads Trump by 9 percentage points in the survey of likely voters, taken after a leaked video prompted a series of women to come forward alleging the Republican made unwanted sexual advances.

Support for Trump among critical groups of voters, including men and the less educated, has weakened in the campaign's closing days, a trajectory that could translate into a landslide loss for Republicans in the Electoral College and setbacks in down-ballot races that will determine control of the House and Senate.

"This poll shows movement toward Clinton with all the right groups it takes to win—including men and those without a college degree," said pollster J. Ann Selzer, who oversaw the survey ahead of the final debate Wednesday. "Their alignment with Clinton is a formidable change in the algebra."
And to think I used to hate algebra!
In other good news from an unexpected quarter, Lil' Marco is apparently immune to the Assange fanboi fever that has gripped the rest of the GOP:
Sen. Marco Rubio tells ABC News Republicans are making a mistake by jumping on allegedly hacked emails released by Wikileaks to criticize Hillary Clinton. In fact, he says he won't talk about the hacked emails at all.

"As our intelligence agencies have said, these leaks are an effort by a foreign government to interfere with our electoral process and I will not indulge it," Rubio tells ABC news. "Further, I want to warn my fellow Republicans who may want to capitalize politically on these leaks: Today it is the Democrats. Tomorrow it could be us."
Now, we know Lil' Marco lacks the courage of any conviction except his belief that he should be reelected to the no-show senate job he is on record disdaining. He has endorsed the presidential candidate he once rightly called out as a dangerous, unqualified conman in a transparent attempt to save his own bacon.
So why is he willing to indulge in truth-telling about WikiLeaks and its role as Putin's cat's paw as Russia attempts to interfere with a U.S. election? My guess is he's seen polling that scares the bejeebus out of him and is attempting to micro-target specific groups in Florida.
Rubio is walking a tightrope over twin vats of boiling acid — the Trumpenproletariet in the Florida interior and panhandle on one side and reflexive Cold Warriors in South Florida on the other. He dares not offend the former by repudiating Trump and is attempting to curry favor with the latter by taking a shot at the revanchist Putin.
Lil' Marco might also be optimistically calculating that when he runs against President Hillary Clinton in 2020, Putin might prefer to continue to deal with the incumbent rather than a callow, empty suit who built his political identity around a phony "Cuban exile" story. Ironically, Rubio may be the rare case where WikiLeaks apologists like Greenwald and Billmon, who like to tar fellow Democrats with the "red baiter" brush, might actually have a point.
But however he arrived at it, Rubio is correct to reject attempts by a foreign power to screw with our election. So is the nation of Ecuador, which has done us the favor of putting the proper name to that exercise while our own Beltway press mostly ignores Putin's brazen power play in favor of hunting bits of salacious political gossip.