Check out the puffball on this guy!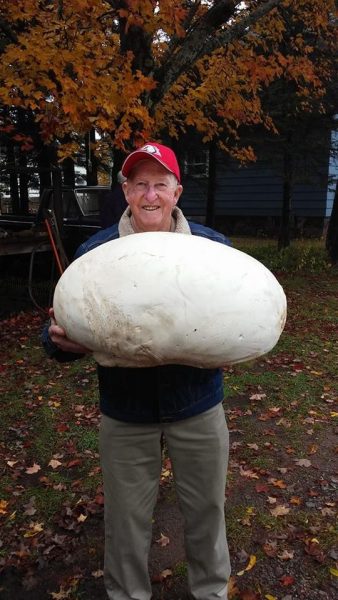 I'm feeling, I don't know, kinda inadequate.
Also found in Michigan, btw. (As I mentioned, we've had a megaton of rain.) And the comment thread is filled with people showing off their puffballs. The clever ones have kids holding them up (their tiny bods increasing the apparent size of the ball), but there are also puffballs measured against beer cans and dogs.
Also, puffs wearing hats, and one (that I saw) Puffball-O-Lantern.
So we—and when I'm talking about cooking, you should always assume the royal we—cut up the puffball into slices and fried them. Then we crumbled it up, ate some, and froze the rest. It has a simple, okay flavor–not fantastic, but not bad–and is kind of the texture of a very light crumbly cheese. We'll probably use it in soups and as a side dish and some other stuff.
Open thread to talk about puffballs, the election, or anything else.