Am I a bad hombre for tweeting this? pic.twitter.com/0wW2isHe3X

— George Takei (@GeorgeTakei) October 20, 2016

.
Apart from GOTV, what's on the agenda as we start the weekend?
.
?NOT TO BE MISSED: The one, the only @GeorgeTakei joins our #GlobalTownHall on Monday. Sign up now! https://t.co/eALDTc61qC pic.twitter.com/514FkI8CJ6

— Democrats Abroad (@DemsAbroad) October 20, 2016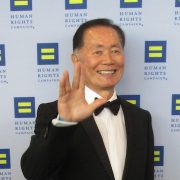 Join Democrats Abroad for our fifth Global Town Hall of 2016 with special guest George Takei

Monday, October 24,

8:00 AM EDT (Washington DC time) by video-conference

Our very own Martha McDevitt-Pugh, DNC Member, Vice-Chair in the Netherlands, and Chair of the LGBT Caucus, will start things off by discussing the Democrats Abroad LGBT Caucus and Advocacy Work.

George Takei will be sharing his thoughts with DA about what really makes America great, why he supports Hillary for President — and why we must win the White House and Take Back Congress.