You know that handful of folks who show up at this here blog to taunt Clinton supporters when there's a bad run of polling? Do not expect them today. Even this cycle's outlier polls that Trump loves to tweet — Rasmussen, LAT/USC and IBD/TIPP — are showing Clinton leads.
Like Trump, I have my favorite polls, though unlike Trump, I don't put too much stock in the snapshots but rather pay heed to averages. But as far as today's crop goes, I like ABC's daily tracking poll, which shows Clinton up by 12. I think this is my favorite part: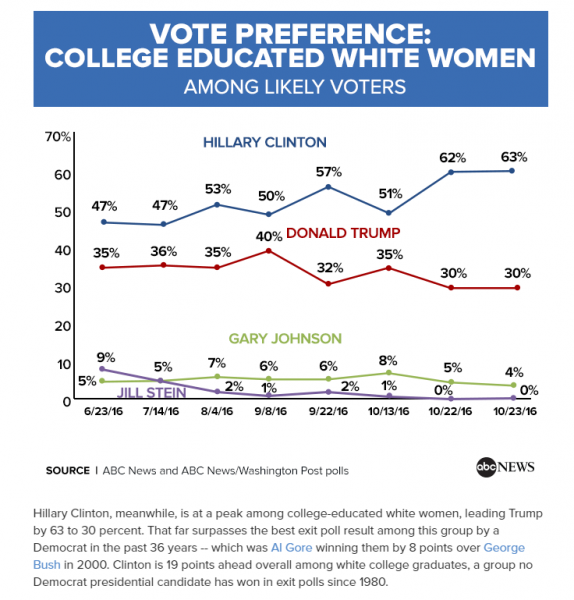 If it holds, that gap signifies a stunning repudiation of the Angry Circus Peanut from a group the GOP cannot write off if they ever hope to be competitive in a national election again.
On average, there's an 8-point gender gap in US presidential elections that favors Democrats. Most of the credit goes to nonwhite women, who vote for Democrats by overwhelming percentages.
White women vote Democrat in larger numbers than white men do, but Republicans typically get the majority of their votes too. Doesn't look like that'll be the case this year.
Thanks for getting a clue, fellow college-educated white women! Now go talk some sense into the white dudes in your lives. (Though to their credit, even white dudes are abandoning Trump — the poll shows Trump 4 points behind Clinton with college-educated white men and losing altitude with non-college white men.)
Another interesting thing to note about the above chart, as someone on Twitter pointed out: Jill Stein has essentially ZERO support with this group, which means she's sewn up the hardcore Dudebro bloc and pretty much nothing else.
And another thing: the Cook Report predicts that Team Donkey will pick up 5-7 seats to secure a majority in the US Senate. Life might be about to get more interesting for Judge Garland.
Just 14 days to go before our long national nightmare is over, my friends. A mere fortnight. Vote. Phonebank. Knock on doors. We can do this.