Secretary Clinton has stated several times that she would consider, if elected President, a no fly zone (NFZ) over Syria and has implied this would be part of a humanitarian assistance strategy to bring relief to the citizens of Aleppo. At the last two debates she specifically referenced Omar Daqneesh, the shell shocked 5 year old Syrian boy filmed sitting in the back in an ambulance in August as a reason to not allow the status quo of Russian and Syrian air strikes on civilian population areas to go on. This has not always been Clinton's position, in 2013 she expressed concern that a no fly zone would kill a lot of Syrians. Secretary Clinton's change in position, or at least a stated willingness to change her position, has not been met with universal acclaim. Many Democrats, the Chairman of the Joint Chiefs of Staff, and others have expressed concerns that a no fly zone would not save lives. Others have argued that it could start World War III featuring the US vs Russia.
Since this has now been put forward as a possible change in US policy and strategy it is important to take a few minutes and consider exactly what a no fly zone really is, how such a choice fits within the US's strategy formulation framework, and whether it is feasible, acceptable, and suitable.
In terms of US military concepts and doctrine the phrase "no fly zone" is not a doctrinal term. The closest doctrinal term is no fly area (NOFLY) and is defined in Joint Publication (JP) 3-52/Joint Airspace Control as:
Airspace of specific dimensions set aside for a specific purpose in which no aircraft operations are permitted, except as authorized by the appropriate commander and controlling agency.
Mueller defines no fly zones in Denying Flight as:
…a no-fly zone can be defined as a policy under which an outside actor overtly prohibits some or all aircraft flight over a specified territory and undertakes to intercept aircraft violating the prohibition or otherwise punish those responsible for violations.3 Several features of this definition are worth noting. First, an NFZ thus defined does not include defending the sovereignty of one's own airspace or that of an allied state with the ally's consent. In a sense, it can be said that virtually every country has an NFZ of some sort over its own territory, often prohibiting all flights in particularly sensitive airspace, but these are not of interest here. Second, an NFZ is a declaratory policy under which one expects violators to be aware of the line they are crossing. Third, imposing an NFZ worthy of the name entails enforcing it, not merely complaining about those who violate it; normally, this means intercepting aircraft that defy the ban, though an NFZ could also employ an enforcement mechanism that relies on other, less-direct forms of sanction.4
He posits that no fly zones are often attractive policy options because:
Since the end of the Cold War, "no-fly zones" (NFZs)1 have begun to appear on menus of policy options for dealing with troublesome states. Prohibiting a miscreant government from using airpower for warfare or transportation within its own country may appeal to policymakers, primarily because it is perhaps the most limited way that military force can be used as a punitive tool. Compared to other forms of armed intervention, NFZs typically entail relatively little risk to the powers imposing them, as least when directed against militarily weak targets. Yet, because they are an active use of military power, NFZs tend to seem more assertive than policy instruments such as economic sanctions.

Due to their limited nature, no-fly zones may also be relatively easy policy initiatives for international coalitions to agree on when they are keen to act against a target regime but wary of taking large risks or committing themselves to major military action. This was very much the case in early 2011, following uprisings against Libyan dictator Colonel Muammar Qaddafi and the Libyan government's subsequent crackdown against its internal opponents. With a rising sense that the international community needed to do something to help the rebels, first the Gulf Cooperation Council, then the Arab League, and finally the United Nations voted to support the imposition of a NFZ over Libya, from which grew the 2011 air campaign against Qaddafi that enabled the Libyan opposition to defeat his regime and remove him from power (Operation Odyssey Dawn [OOD] and Operation Unified Protector [OUP]).
While this doctrinal and definitional discussion is interesting, the seeming reason behind Secretary Clinton's willingness to revisit adjusting US policy to include a no fly zone is the result of humanitarian concerns. One of the reasons for this seems to be the failure of the recent cease-fire, which even when it was in effect, failed to allow for humanitarian assistance to reach the people of Aleppo. Its failure also seems to have taken the wind out of the sails (if I may mix my Service metaphors) of the announced US-Russian Joint Deconfliction Office to coordinate strikes and deconflict operations against ISIL and the Nusra Front in Syria. Part of the consideration, viewed solely through public statements and the news reporting on her changed position, is that diplomacy, including MIL to MIL (military to military) diplomacy has failed to end air strikes on non combatant civilian populations in Syria, specifically Aleppo, and as a result a greater humanitarian disaster has ensued. As a result the most effective way to break the impasse, prevent air strikes on civilian population centers, and get much needed humanitarian assistance to those civilian populations is to have the US led coalition deny flight to the Russians and the Syrians.
The discussion of a no fly zone, and the reasons to implement one, has strayed into the concept of Responsibility to Protect (R2P). Responsibility to Protect is defined as:
The three pillars of the responsibility to protect, as stipulated in the Outcome Document of the 2005 United Nations World Summit (A/RES/60/1, para. 138-140) and formulated in the Secretary-General's 2009 Report (A/63/677) on Implementing the Responsibility to Protect are:

The State carries the primary responsibility for protecting populations from genocide, war crimes, crimes against humanity and ethnic cleansing, and their incitement;
The international community has a responsibility to encourage and assist States in fulfilling this responsibility;
The international community has a responsibility to use appropriate diplomatic, humanitarian and other means to protect populations from these crimes. If a State is manifestly failing to protect its populations, the international community must be prepared to take collective action to protect populations, in accordance with the Charter of the United Nations.
So where does this all fit into the US's strategy formulation framework. A graphical representation of the strategy formulation framework can be seen in Figure 1.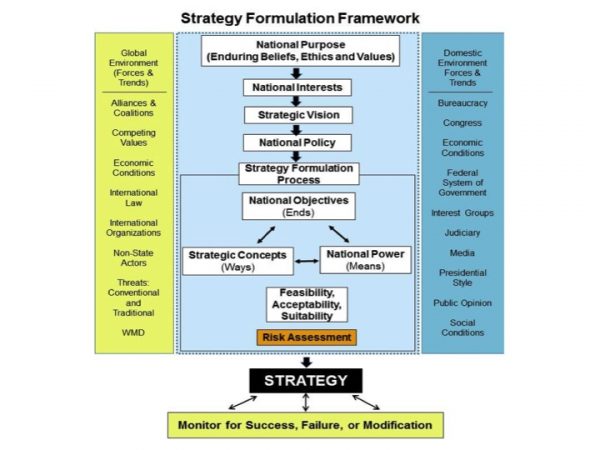 (Figure 1: Strategy Formulation Framework)
Enacting a no fly zone policy and strategy fits within several places on the strategy formulation framework. Specifically within the ethics and values of National purpose, as well as National interests and within a number of both the domestic and global environment, forces, and trends. Reporting on the humanitarian crisis resulting from the Syrian Civil War in general and the Russian and Syrian air strikes on civilian populations in specific, generates reporting that describes the depth and breadth of the strategic problem. The reporting, along with the photojournalistic evidence and documentation that is reported out of Syria has the ability to change both the domestic and global views on whether a no fly zone would be an acceptable policy adjustment. For instance: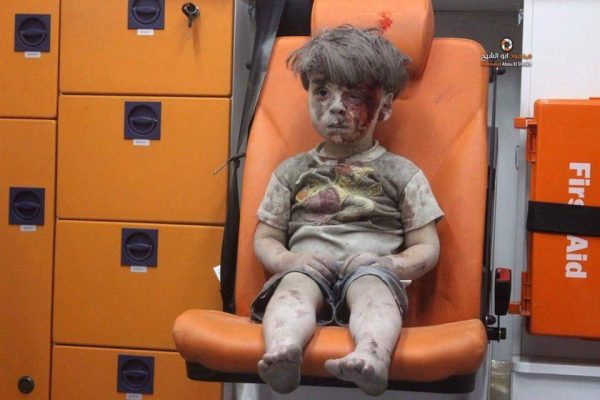 (Image 1: Omar Daqneesh)
and
Syrians are literally being buried alive in body bags. Haunting NYT oped by Raed Saleh, head of the White Helmets https://t.co/kpTKIuyskq pic.twitter.com/ZIoxqvRCe5

— Karim Sadjadpour (@ksadjadpour) October 25, 2016
This, as well as other reporting on the White Helmets of Aleppo has the ability to impact the strategic environment, just as images of starving Muslims in Balkan concentration camps did in the mid 1990s. It does so by speaking directly to National values and ethics, as well as global norms, to prevent war crimes and crimes against humanity.
Yet even as the strategic environment has changed – diplomacy continues to fail and the Russian and Syrian air strikes are deepening the humanitarian crisis – the strategic questions regarding implementing a no fly zone policy are: is it feasible, acceptable, and suitable (the FAS test)? While Russia may only have two to three dozen fixed and rotary wing assets in Syria, in addition to Syria's own Syrian Arab Air Force, Russia has also moved anti-aircraft capability into Syria. Specifically the S-300 air defense system at its naval base in Latakia. This is in addition to the deployment of its S-400 air defense system to Syria in late 2015.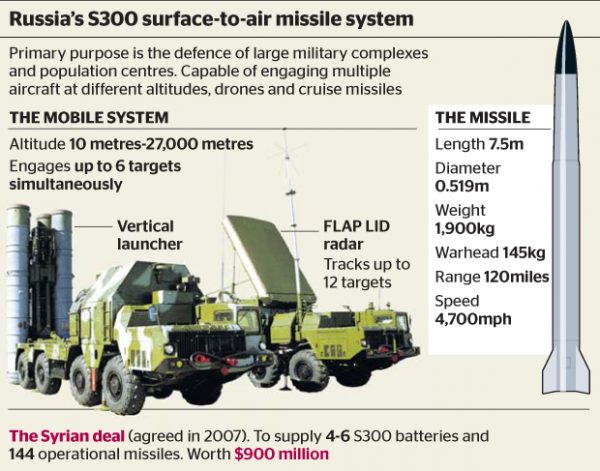 (Image 2: S-300 Air Defense System)
and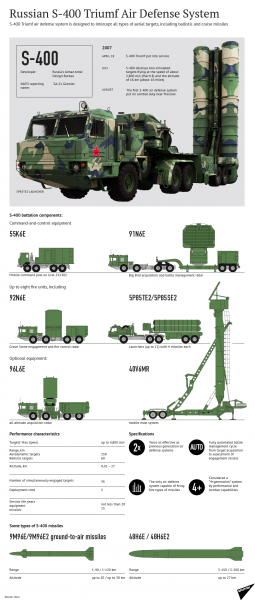 (Image 3: S-400 Air Defense System)
Given Russia's assets in Syria – fixed and rotary wing aircraft and the S-300 and S-400 air defense systems – is a US led Coalition no fly zone feasible, acceptable, and suitable? Feasible is the easiest portion of the FAS test to answer. Yes, it is feasible for the US led Coalition to establish and maintain a no fly zone over parts or all of Syria. American Air Power is overwhelmingly dominant anywhere in the world. The ability to wield dominant Air Power is part of US Air Force doctrine and given the abilities of the US Air Force, US Navy and Marine Corps, US Army Aviation, and Coalition Air Forces, establishing and maintaining a no fly zone over parts or all of Syria is feasible. It is, however, neither acceptable nor suitable at this time. There are very, very real concerns that the Russians, and by Russians I mean Putin as the Russian National Command Authority, would be willing to challenge the no fly zone through either air to air or ground to air based fire. US Director of National Intelligence Lt. Gen (ret) James Clapper has publicly stated this concern:
"I wouldn't put it past them to shoot down an American aircraft,"
The ultimate concern is that a Russian response to a US led Coalition no fly zone is that it would lead to war with Russia. And because Russia's conventional forces are still in rough shape, as is the Russian economy, this would lead the Russian's (Putin) to quickly escalate to nuclear warfare. As a result, and because of the risk of escalation via Russian response, a no fly zone is not suitable. Simply there is too high a probability that it would make things worse.
It is also not acceptable for a related reason: the concerns over the likelihood of escalation into an interstate war between the US and Russia, with a possible further escalation to a nuclear war outweighs, for now, the ethical and moral concerns regarding the humanitarian crisis that is being worsened by Russian and Syrian air strikes on civilian populations. It is hard to persuade US lawmakers and their constituents to risk an interstate war, let alone a nuclear one, in exchange for bringing much needed humanitarian relief to Syrians caught between the Russians and Syrians on one side and the Nusra Front and ISIL on the other. There simply is not enough coverage of and interest in the Syrian humanitarian crisis as a result of the US Presidential election dominating the news cycle to allow a policy maker to be able to leverage coverage of the humanitarian crisis to persuade a Congress that has thrice refused to pass an Authorization of Military Force to provide President Obama, the Department of Defense, US Central Command, and Combined Joint Task Force Operation Inherent Resolve with a dedicated set of authorizations and funding to actually prosecute the war against ISIL in Syria and Iraq. The current American political reality makes a no fly zone policy unacceptable.