I can't think of another way to describe him after this* [Politico link]:
Donald Trump suggested canceling the election Thursday and granting himself the presidency.

"What a difference. You know, what a difference this is," Trump said during a rally in Toledo, Ohio, after comparing his tax plan with Hillary Clinton's.

"And just thinking to myself right now, we should just cancel the election and just give it to Trump, right? What are we even having it for? What are we having it for?" he asked. "Her policies are so bad. Boy, do we have a big difference."
Because that's how he rolls, and how the party that nominated him would, if they could.
I got nuthin' beyond that.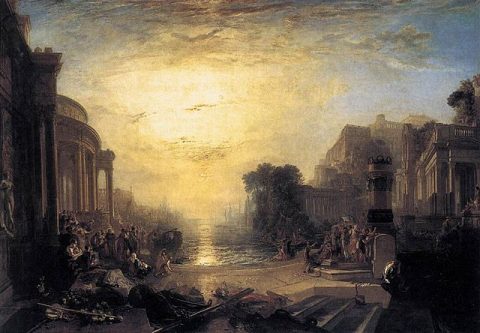 Except perhaps this:  the Republican party is a wholly owned Trump subsidiary now. It must be destroyed, its walls pulled down, its proud towers cast down, its fields sown with salt.
Factio Grandaeva Delenda Est
*Actually, I've been using that label for the Cheeto-faced Ferret-heedit Shitgibbon for some time.  But that's neither here nor there.
Image: J. W. M. Turner, The Decline of the Carthaginian Empire, 1817.