Here's two old boxers basking in the sun like a pair of fugitive church ladies spending embezzled Sunday School bake sale funds on a cut-rate Panama City holiday: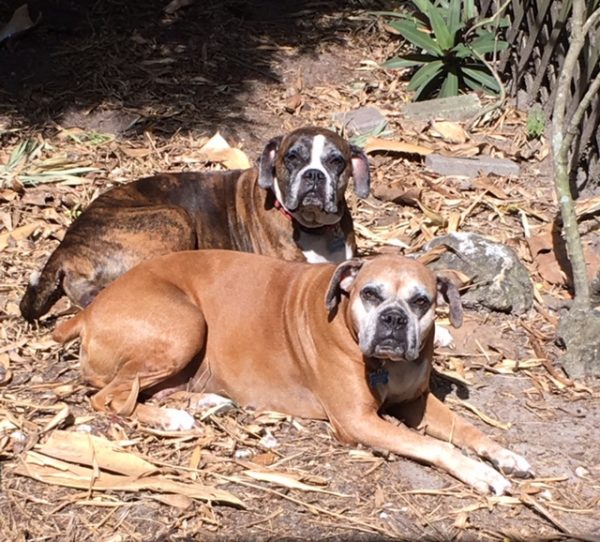 But honest to dog, y'all — I'd rather erect a palm-frond lean-to next to their wallow as my only shelter than trade places with Melania Trump in her gilded cage overlooking Central Park:
Since her speech snafu over the summer, Melania Trump has kept a relatively low profile where her husband's campaign is concerned. True, she's defended him against the women accusing him of sexual assault with interviews and fashion statements alike, but she has yet to reappear on the campaign trail.

Unfortunately for Melania, on Thursday Donald surprised his wife with the news that she'll soon hit the trail again. During a joint appearance on Good Morning America, Melania Trump told host George Stephanopoulos, "I'm there for him every time he needs me. And I might join him — we will see."

Apparently she was speaking in hypotheticals, because when Donald followed up with, "She's actually going to make two or three speeches," Melania let out a surprised, "Oh!"

"Made some news right there," Stephanopoulos observed, referring to Melania's reaction. "Well, it is. It's, it's — she's amazing when she speaks," Donald Trump said. "She's an amazing public speaker so she's agreed to do two or three speeches, and I think it's going to be big speeches, important speeches, and I think it's gonna be great."
Sounds like Trump has FLOTUS envy. Michelle Obama has been on the campaign trail eviscerating Trump without ever saying his name, and he probably figures what one broad can do, another can, so he's going to trot poor Melania out to do…what? Criticize Hillary Clinton for standing by her man? No, that won't work, for obvious reasons.
Anyhoo. I'm almost moved to pity. Almost. Open thread!