While the seven armed occupiers go scot free in Oregon, peaceful demonstrators seeking to preserve clean water and their tribal rights against encroachment by the Dakota Access Pipeline (DAPL) are being arrested by the hundreds by militarized police in North Dakota.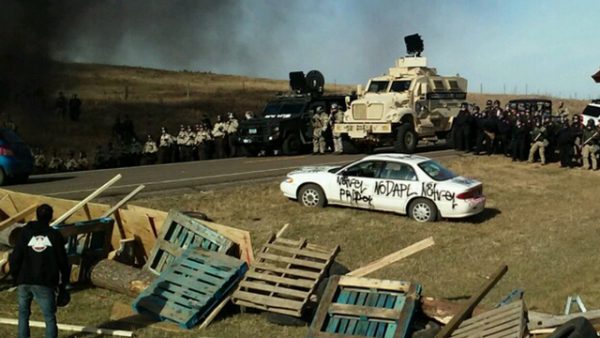 Attack dogs, pepper spray, water cannons, tanks, LRADs—no defense is too excessive when it comes to oil companies' inalienable right to despoil and plunder.
Who needs drinking water, anyway?
Energy Transfer Partners claims DAPL is safe as safe can be—which is why it's so perplexing that Bismarck, ND nuked the original plan for it to pass within ten miles of their city.
Irony, thy name is Bismarck:
This route was rejected in the Corps' environmental assessment due to its close proximity to source water protection areas, multiple conservation easements and residential areas — the North Dakota Public Service Commission has a 500-foot residential buffer requirement. [bolding mine – HR]
No problem! said ETP. We've got some indigenous peoples here we don't mind further disenfranchising.
Please spread the word – this conflict, and the excesses of the corporate-owned (figuratively and literally) police forces haven't gotten nearly enough play.