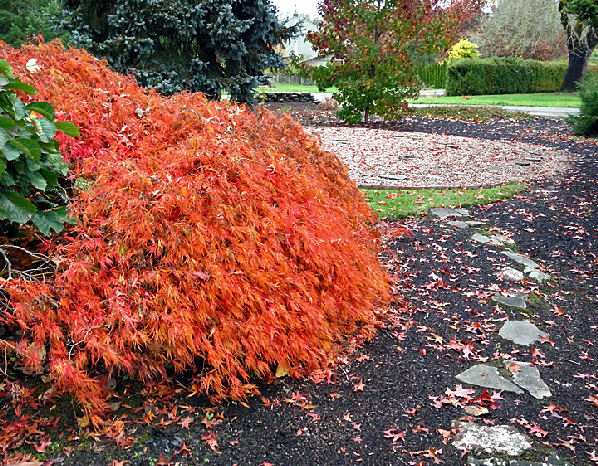 From ever-loyal garden commentor Marvel:
Over thisaway, we're enjoying the few sunny days that punctuate our otherwise dank Pacific Northwest Fall. The trees have so far hung on to much of their colorful leaves (sorta) and we've been able to spend a day or two of sunny (sorta) days as we rest and marshal our strength for the final (and fairly strenuous) stretch of our yearly outside chores.

I often think of Fall as being a time of death & decay, but in truth, the changes that many of the plants up here go through this time of year sing of a sweet (if late) kind of life.

Most evenings, Jack & I like to sit in our garden shed, enjoying a glass of wine & recollecting our day. When we do, we look out at a fairly tame part of the back yard. There's a lawn, a maple, an apple tree, some blueberries & a greenhouse. Leaves change color and come & go, but for the most part, the view changes little over time. It's still lovely, the way the colors soften and everything seems to take on a soft glow in Fall.

Out front there's a ground-hugging Japanese maple [top pic]. Its colors are extreme and seem a little backwards: early on, the leaves unfurl a deep mahogany purple and stay that way all through Spring and Summer. Come September, the leaves do a quick change from purple to a delicate green. Then just before they're ready to drop in the middle of Fall, they turn a breathtaking coral.

We've got several big old rocks around the grounds, some situated in artistic spots, but most just sitting here and there. This time of year, after the first few rains, they spring to life with extravagant coats and fringes of moss. Come Spring, the moss will produce tiny prehistoric flowers.

In a last burst of glory, the asparagus — its airy ferns having spent the Summer gathering sunny sustenance for next year's growth — transitions from dull green to brilliant gold. It's an exuberant display before it lays itself down to sleep.

Finally, the ever-present borage just keeps plugging away. Its fuzzy purple blooms are pretty much the first and last flowers we see out there. The polllinators adore these plants (and count on them at the extreme ends of their seasonal activities here), so we treat them with care and forgive their invasive nature.

I hope we have a very, very Democratic time of it in coming days. VERY Democratic.
What's going on in your garden(s) this week?