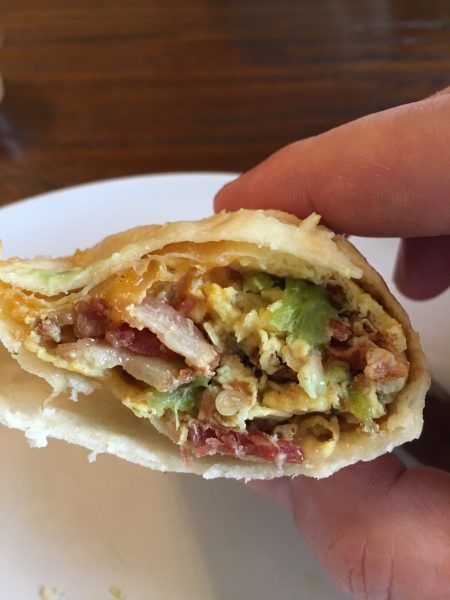 In pursuit of some non-political thinking, submitted for your pleasure.
Last weekend I had the pleasure of being in Austin and having another encounter with their famous breakfast tacos. The sublime experience was delivered by Torchy's Tacos and their sauces. I brought some extra sauces home and am now trying to recreate something like them before they go bad and I no longer have reference tastes.
And so of course I thought to mention them here, in case anyone's cracked the code(s). My understanding is that it would take 24 or more hours to make their sauces because of many secret ingredients that take time to prepare such as special pepper sauces. So it's not truly possible to recreate them at home, but getting close is more than enough reward.
But let me back up a step or two.
For those not in the know, Austin has a fantastic tradition of breakfast tacos; they are enjoyed throughout central Texas, including Dallas, but reach their pinnacle in Austin. They are a mix of eggs/cheese/chilies/veggies/meats and are served on a toasted corn or flour tortilla, and accompanied by sauces. Truly, this type of breakfast food is more than just eggs and stuff on a tortilla; there's an art to these things, and every aspect contributes to the final result, especially those sauces.
Austin's standard sauce is a creamy jalapeno-based sauce that is much milder than you might think. Some places fry or roast peppers before adding them and a neutral oil to make a creamy emulsion. As for Torchy's, I enjoyed their chipotle and advocado sauces and those are what I am trying to recreate. They are both moderately spicy, and the chipotle sauce is white, and has a hint of the tang of ranch dressing, so that may be one secret. But the avocado sauce is a mystery though I expect its base is the standard Austin green sauce with some extras, including some avocado. It's so good it hurts.
Having spent my early childhood in Texas, and almost a decade recently in Southern Colorado, I've grown to relish this type of Southwestern breakfast fare and make such things more than once a week. My signature ingredients include home-canned sliced jalapenos and frozen New Mexico or Pueblo (Colorado) green chilies I procure, process, pack, and freeze for individual thawing. I also make a mean green chile and am perfecting my posole this winter.
With my greatly-increased knowledge and skill in cooking and love of DIY sauces, trying to nail these sauces down is a new passion. They're that good, and I'm hoping to share the love and perhaps get some much-needed help!
Basic Austin Green Sauce
Clean, slice, seed, and remove white veins from 6 jalapenos
1/2 cup grapeseed oil
3-6 cloves garlic
4 tbs lime juice
3/4 tsp salt
Process all ingredients except oil in food processor until smooth.
Then gradually add oil until the mixture emulsifies.
I like to put in fridge to let it set before eating, but that's purely texture-aesthetic.
Please feel free to offer any tips, to discuss other delicious treats, and to otherwise offer something that goes good on the table to block out tension, second-guessing, and endless agitation. 8 more days until we make history…again.