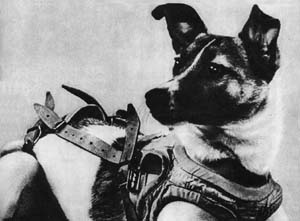 Yesterday was the anniversary of the death, in 1957, of poor Laika, the first being to orbit earth. She was a little stray dog with a good nature, and only wanted to be loved. She lived for around four hours in space before an overheating module killed her, although the Soviets didn't admit this until 2002. In 1998, mission scientist Oleg Gazenko said, "The more time passes, the more I'm sorry about it. We shouldn't have done it…We did not learn enough from this mission to justify the death of the dog." (Nick Abadzis wrote a great graphic novel about her.)
RIP Laika.
And onto other news…
Massachusetts residents: On election day please vote YES ON 3, the ballot measure that would outlaw cruel chicken battery cages, pig gestation crates, and calf veal crates for farmed animals in the state or those raised for food that's sold in the state. In its endorsement, Boston Globe notes that it would increase retail prices by between 1 and 5 cents per egg. In other words: a vast amount of suffering relieved for mere pennies. (Also: Good NECN coverage.)
Some lousy human being shot Pedals the Walking Bear.
The future of zoos and other "animal attractions"? Google Tokyo's cool, interactive virtual fish pond.
NYT reviewer worries that his cat is getting some ideas from the new PBS series, The Story of Cats . "When she looks at me now, Hermione seems to be working out the details of how to drag my rib cage upstairs to the bathtub."
Note to Cole: Jill Stein is NOT vegan.
Please share your fauna-related news views and news in the comments.