I've reached the point where my sleep patterns and the kindness I'm able to show my family both demand that I step away from the election noise machine — staying off Twitter as near totally as possible, for example — but I haven't yet given up one habit: checking the official campaign schedule pages for both Trump and Clinton.
At this stage of the race, the only absolutely equal resource the two sides have is time, and without having any deep insight into how professionals think about deploying their stock of hours and minutes, I still find it interesting to see what each side is doing.  Right now, there's quite a contrast.
The Republican ticket lists only its two principals' travels.  On a quick glance Donald Trump and Mike Pence have eighteen events on their docket between now and Monday evening.  That's deceptive, however, as the schedule includes two events at which both appear.   So that's sixteen headlined campaign rallies over the next four days.*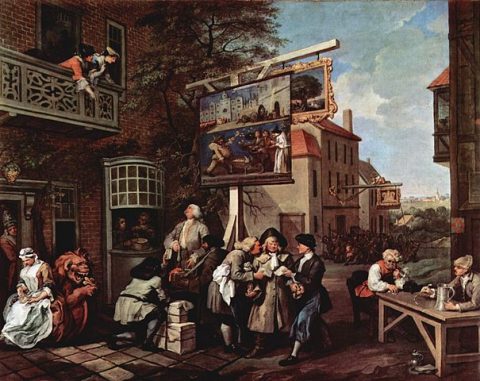 The Clinton/Kaine campaign is doing it differently.  Hillary's campaign lists not just the ticket's events, but those of her top surrogates.  Including those gives Clinton/Kaine sixteen events just today.  Two by the candidate (compared to four Trump rallies today, btw), one Kaine-led farrago — to which add appearances by Obama, Biden, Bernie Sanders, Bill C., Chelsea C., and a Cleveland, OH concert headlined by Jay Z. (Props to Bernie, doing four events today, three in IA and one in Nebraska, and then  two more tomorrow, in IA and CO.  Not leaving it on the table is our Senator from VT.)  Twelve tomorrow, without POTUS and Bill, but adding Katy Perry, Stevie Wonder and Jon Bon Jovi appearing in two concerts in PA (Perry and Wonder) and FL (Bon Jovi).  Sunday and Monday see fewer events, but with similar star power — Obama back on the trail, with Michelle joining him and Clinton, Bill and Chelsea for an election-eve rally in Philadelphia.
In all, and not counting some Cher-led fundraisers, the Democratic campaign has thirty eight events between now and election day.
In terms of geography, the two campaigns basically agree on what's left to fight about.  Both show up in all the usual suspects: FL, NC, OH, PA, MI, IA, CO, and NH.  Trump, somewhat oddly, heads to NV for the rally that is half his Saturday schedule. (Odd, because early voting ends today in NV, so he's missing a chance to give a boost to that  process, which will finish with half, perhaps as much of 70% of all ballots cast.)
Clinton, Kaine and their surrogates will skip Nevada but add stops in  Nebraska's one gettable electoral vote (with a Sanders visit), in Colorado on (four rallies on two different days — three led by Bill Clinton, one by Sanders), and one Joe Biden visit to Wisconsin.
So there you have it:  broad agreement on where this election will be settled (if it isn't already), and very different deployment of publicly visible resources to fight those battles.  None of this speaks to the ground game or any of the secret sauce which we believe (and I deeply hope) favors the more organized and technically skilled Democratic operation.
Make of it what you will.  For me, this kind of thing helps me detox from election madness. YMMV.  The effect won't last that long, but I'll get myself some help by heading to NH to GOTV on Sunday, and probably again on election day.
Open thread!
*An bit of strangeness:  while Trump is indeed making good on his promise to fill a heavy campaign schedule, Pence only has three solo appearances slated.  I'm not sure what that means, if anything — could be Trump doesn't see the point of spending money on his number two; could be that Pence is dialing it back; could be what the goat's entrails told someone.
Image:  William Hogarth, Canvassing for Votes, from the Humours of an Election series, 1754-55.