Here's a bunch of wild turkeys in a meadow. I don't think I've ever seen that many together in one place — usually they travel in much smaller flocks: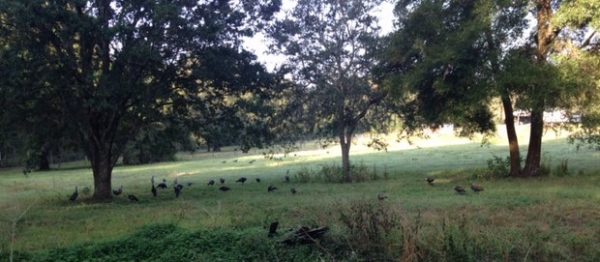 Did anyone read "Billy Lynn's Long Halftime Walk"? I have not, but I see they've made a movie of it. I heard it was a good book, but the movie clip I just saw contains a trope I wish filmmakers would retire as overused: folks flinching at the gunshots during a military funeral's 21-gun salute. Just staaaahp already.
I envy those of y'all who are not in swing states. It's like Trump and the Trump PACs are turning every smelly garbage can upside down on my TV. These are seriously the worst presidential-level ads I've ever seen — of the caliber usually reserved for ugly county commission knife fights. Tuesday can't come quick enough to suit me.
So, Alabama vs. LSU or Georgia vs. Kentucky? I'll be switching back and forth between the two.
Open thread!