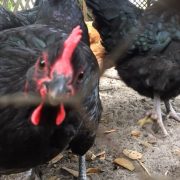 My chickens get to free-range under our supervision just about every evening, but during the day, they are confined to a 320-square-foot coop containing a hen house. They scratch around in the coop all day long and have dug up some interesting things over the years, including vintage toys and large, mysterious bones.
This morning, I went out to distribute some scraps and tripped over what appears to be a farm implement of some sort, oxidized beyond all recognition — perhaps a hoe head? The chickens rushed me when I stumbled, battling over the scraps I'd dropped and pecking my (unfortunately!) sandal-shod feet to scoop up bits of apple peels that had landed there.
It was mildly alarming. But if I were a Trump campaign operative, I'd headline this incident as follows:
Heroic Food Purveyor Fends Off Dastardly Attack by Ravening Horde of Velociraptors!
I say that because Team Trump is trying to spin the incident last night — in which a Republican protester unfurled a "Republicans Against Trump" sign and was tackled and ejected as Secret Service agents hustled Trump offstage — as an assassination attempt. Via WaPo:
Donald Trump Jr. and top aide retweet baseless allegation of assassination attempt

Trump was quickly rushed off-stage by Secret Service at a campaign rally in Reno, Nev., on Saturday night as a scuffle erupted in the crowd directly in front of the stage and a man was led away. It wasn't immediately clear exactly what had happened.

But amid the chaos, some people seemed sure. Within minutes, at least two top Trump campaign voices — Donald Trump Jr., and top social media aide Dan Scavino — passed along unsubstantiated claims that the GOP nominee had just survived an "assassination attempt."
Christ on a crumpet. I'm sure it was a genuinely scary incident — someone allegedly yelled "Gun!" The gun-humpers in attendance briefly regained enough sense to want to avoid the unwarranted and unauthorized presence of an instrument designed to cause swift death.
And as much as I despise the shrieking, hirsute, apricot-hued shit-sack, I don't resent a cent of my tax dollars going to protect Trump during this campaign. As we are all too aware, this country is chock-full of dangerous lunatics with unrestricted access to powerful firearms.
But seriously, they're going to try to milk the fact that they panicked over nothing for sympathy votes? My cranky-ass hens are braver and more sensible than those big fat chickens.
Open thread!
PS: I highly recommend today's garden chat, even for non-gardeners. Valued commenter WaterGirl shares a lovely story of remembrance, renewal and hope.