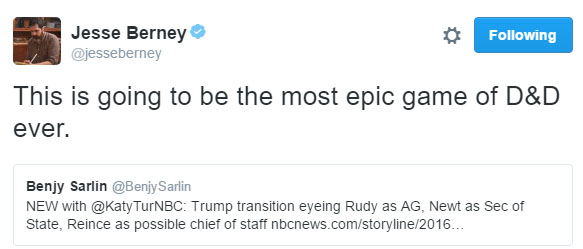 I don't know if there is a word for something that is both hilarious and horrifying, but were there such a word, I would use it to describe this:
Donald Trump's cabinet-in-waiting is taking shape in the final days of the race, as aides eye a number of Trump loyalists for major posts should he win on Tuesday.

Among the names being considered, according to conversations with three campaign advisers who requested anonymity to speak freely: Rudy Giuliani for attorney general, Newt Gingrich for secretary of state, retired Lt. Gen Michael Flynn for defense secretary or national security adviser, Trump finance chairman Steve Mnuchin for Treasury secretary, and Republican National Committee finance chair Lew Eisenberg for commerce secretary.

Trump himself has not taken an active part in transition efforts, in part out of superstition: He fears too much planning before a victory might jinx the campaign. In 2012, he was shocked to read detailed stories on Mitt Romney's preparations for the White House long before election day.
But wait, it gets better:
Reince Priebus, the current RNC chairman, is under consideration as Trump's chief of staff. Priebus earned Trump's trust over the course of the campaign by steadfastly defending him while other top Republicans denounced Trump or shied away from brand.

"They're thinking, 'We need to find that balance between someone who knows how Washington works and someone who shakes things up,'" the senior campaign adviser said.

***

If Priebus leaves the RNC, two close Trump allies could be considered to take his position. Trump's team is talking about former campaign manager and current CNN contributor Corey Lewandowski or current deputy campaign manager David Bossie as possible options.

But sure, kids. Vote third party. Because principles.