Don't get me wrong: Trump's a disaster for nonhuman fauna as well as human ones. We're likely to see federal humane regulations (what few there are) unenforced, wildlife protections rolled back, more subsidies for Big Ag (including the Bundy "rancher" crowd), and all kinds of other disappointments.
And don't get me started on his trophy-hunting kids.
But voters–even GOP ones, by the way–continue to show that they are strongly pro-fauna: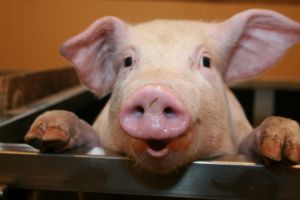 Massachusetts voters passed Prop 3 by a landslide! To remind you, it outlaws horrific intensive confinements (chicken battery cages, veal pens, pig gestation crates) in MA, and also prevents sales of products derived from animals raised in those cages (by out-of-state farmers).
Oregonians passed a ballot measure to stop intrastate trafficking of rhino horns and ivory.
Oklahoma (!) voters defeated a pernicious "right to farm" measure that sought to change the constitution to ban regulation of animal agriculture.
Californians voted to uphold Proposition 67, the state ban on plastic bags. Good on a lot of levels, including that it will help save some aquatic critters' lives.
Most of the candidates endorsed by the Humane Society Legislative Fund won!
One piece of bad news was the defeat of Montana Proposition I-177, which would have banned odious trapping on state lands. (Traps kill savagely, and every year a few dogs and cats get caught in one.)
But, for the most part, a good election for the animals! Thanks to any Juicers who contributed to these (mostly) victories, and please share your fauna-related news and views in the comments.
Edit: Let's also make this an Open Thread.