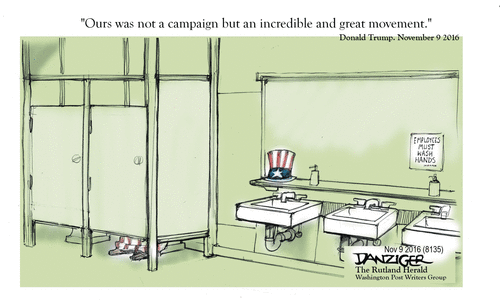 Routine physical with the new provider assigned by my medical group, and my blood pressure was a little higher than the last visit. Told the doctor I hadn't gotten much sleep the night before, since I write for a political blog. He happily told me that he didn't bother voting, because he had a real job, and it was just so unfortunate that "we" couldn't be offered a candidate who was honest and hard-working who truly wanted to make things better for all Americans…
For some reason, this discourse did not lower my blood pressure at all!
Speaking of oversharing, I know some of y'all think I post too much inspirational happy-talk, but maybe we should be doing more to pass around those memes and excerpts. Per NYMag, "Talking About Politics on Social Media Actually Does Make a Difference":
… A report from the Pew Research Center found that 20 percent of social-media users modified their stance on a political or social issue because of something they saw posted to social media. Additionally, 17 percent reported that social media helped alter their perspective on a specific candidate. Democrats were found to be more likely than Republicans to say that they changed their views because of social media…
As we pick ourselves up and start again, what's on the agenda for the day?
.