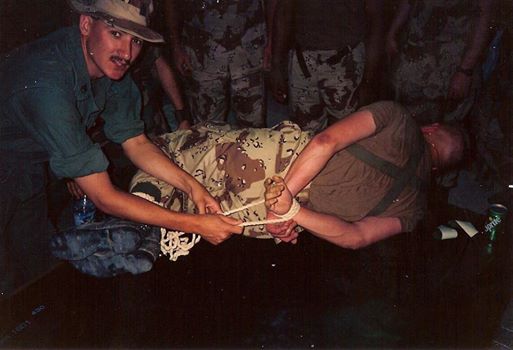 I'm not one for holidays, to be honest. It's not that I am anti-Holiday. It's just they don't mean much to me. Most of the time they sneak up on me- "Oh, shit, it's Halloween, need to go to the store and get candy for the little germy bastards." I'm the guy always googling how to defrost a turkey in 2 hours. Point being, I don't EVER remember it's Veterans day or the other one whose name escapes me at the moment until after messages show up in my FB timeline thanking me for my service or people text me something similar.
"THANKS FOR YOUR SERVICE!" I know it is well-meaning, but it makes me feel very uncomfortable. Usually I just reply "thanks" and move on or if I am feeling like a smartass it's "Thanks for paying for college!" It's weird, though. I don't know why I feel that way. I don't know why people feel compelled to thank me or other vets. In my case, just don't.
I didn't join the military because I was overly patriotic (I'm far more patriotic now, which is why I get so mad when I see us doing evil and stupid stuff), or because I wanted to serve, or because there was a war going on, or because my family had a history of service, or any of that. I joined because I was 19, in college when I shouldn't be, all I was doing was partying and going to concerts and playing lacrosse, and I needed a change. I needed something different. I needed out of where I was. And the Army gave me that opportunity.
So I joined. Everyone was shocked. Very few people knew I was even thinking about it. I just went, talked to the recruiter, quietly jumped through all the hoops, and signed on the dotted line. Had a big party at the fraternity house a week before I left, everyone got rip-roaring drunk and they shaved my head, and it was off to Fort Knox.
And it turned out to be a good experience for me. I traveled, got stationed in Europe and a brief stint in the middle east, and saw a lot of things I otherwise would never have. I learned a lot of self confidence, I learned to walk taller (people thought I grew four inches in the army, when I actually just stopped slouching), I met a lot of lifelong friends, and I learned to judge character. I met a lot of black and latino people, something that I had never been exposed to before in lily white WV. I also learned that leadership is not about your rank, but about your character. Everyone who has ever served in the military that there were great senior NCO's and Officers, but every platoon has that corporal or pfc or buck sergeant who is the actual glue of the unit.
I learned a lot about bureacracy, and I learned a lot about just shutting up and doing your job when you had to and also learning that if you have a good reason, questioning authority isn't a bad thing, but sometimes how you do it is as important as bringing it up in the first place. It was a good, positive experience for me.
I mentioned I met a lot of and learned about lifelong friends. I have friends on FB from the military who say things routinely that would horrify you. Things that I would want to punch people for. I'm sure they feel the same way about shit I say. But I still love them. I still talk to my CO almost every day.
I also learned that the public has a very little idea what the military is like. You hear things like "join the military and grow up" all the time, which is funny, because the military in the peacetime army is really one of the most safe spaces in the world. Not matter how bad you fuck up, you will still have clothes, medical care, three hots and a cot, and survive. You can blow every single penny on payday gambling, and you will be fine. You might piss off your squad mates bumming smokes, but you'll make it.
And while you may experience some new stuff, like I did, it's very easy for you to become an extremely insular thinker, where everything is framed of terms of us versus them. That's why so many military men gravitate to law enforcement, and why so many law enforcement officers think it's us versus the people.
Some things stick with you for a long time after the military. Little things others might not think about. I can't sit in a restaurant unless my back is against a wall and I can see the door and windows. I really enjoyed the freedom that military uniforms offered you- you simply do not have to waste any time thinking about what you were wearing ever. I have a "uniform" today. I basically wear the same outfit every day- I buy a dozen t's, two-three pairs of cargo shorts, some boxers, and a new pair of Merrell's every spring and I am good until November when the winter uniform gets broken out. It's easier and you don't have to think about it. And I don't have to look at myself.
It can make you more authoritarian. That took me a number of years to shake. But it can also make you realize that nothing gets done without a team, which is why I get so mad at third party voters and special snowflakes who just have to be individuals. There's a time for individuality. In the barracks after work is done. Once you've been given the op order and you're rolling down the road is not the time to explore other options because it might be better.
I also learned that every person in the unit can contribute something in some way, and the good leaders figure out who can do what and then lets them.
I'm rambling. Happy Veteran's Day.
Oh, and that picture is of me being hogtied by my platoon mates on my 21st birthday at Camp Doha in Kuwait. I know who everyone in that picture is even though there faces are not showing. Funny that. I could probably still pick them all out in the pitch black just by the sound they make walking and their dark nearly invisible profile.