Here's another beautiful photo from faithful reader cope: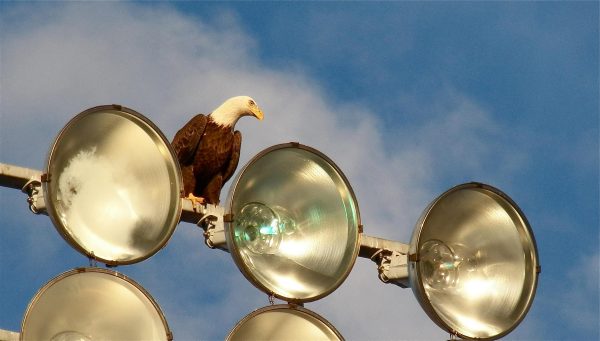 I like the symbolism of the eagle behind the lights, watching. I have a feeling the American people, indeed the world, are about to watch the shit-gibbon flop on the most brightly lit stage on the planet. That's the best-case scenario, IMO. The only question is whether he brings us all down with him.
Speaking of downfalls, the titular "Rome" reference comes from Coach Gregg Popovich of the San Antonio Spurs (thanks to valued commenter JPL for the link):
"I'm not done," Popovich said. "One could go on and on, we didn't make this stuff up. He's angry at the media because they reported what he said and how he acted. That's ironic to me. It makes no sense. So that's my real fear, and that's what gives me so much pause and makes me feel so badly that the country is willing to be that intolerant and not understand the empathy that's necessary to understand other group's situations. I'm a rich white guy, and I'm sick to my stomach thinking about it. I can't imagine being a Muslim right now, or a woman, or an African American, a Hispanic, a handicapped person. How disenfranchised they might feel. And for anyone in those groups that voted for him, it's just beyond my comprehension how they ignore all of that. My final conclusion is, my big fear is — we are Rome."
But while Rome burns, maybe there's something we can do to help, support and bring attention to the plight of the most vulnerable among us. I like Alain's idea for outreach. I like the safety pin symbolism. Resident feline expert WereBear had an idea for raising awareness about those who will lose their access to healthcare.
I've reached out to the people in my life who suddenly feel like outcasts in a place that felt like home last week. Some friends and I are meeting soon to discuss what we can do on a local level to protect and support vulnerable people. I imagine many of y'all are taking similar steps.
Please feel free to use this thread to talk about your ideas on how to help people targeted by the shit-gibbon or draw our attention to other efforts that might inspire us. I don't mean politically — I'm thinking more on a human-to-human basis. We're going to have to get creative.
Please do not use this thread to relitigate the primary or argue over what went wrong in the election. There are plenty of threads where those conversations are ongoing. Not here, please and thank you.