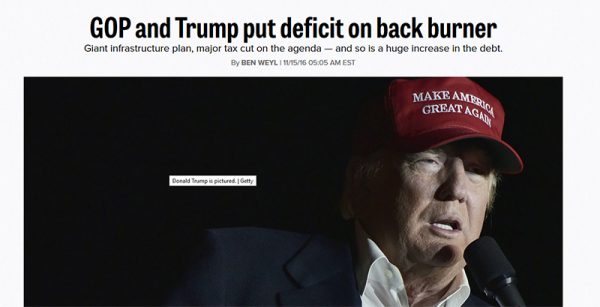 Anyone who is surprised by this should never comment about politics again. Ever:
A serious case of fiscal amnesia may soon be sweeping the GOP.

For eight years, Republicans hammered President Barack Obama for exploding the national debt. But now a GOP-led spending spree is coming, with Donald Trump riding to the White House on trillion-dollar promises and a Republican Congress that looks likely to do his bidding. It's a potential echo of the last time Republicans ran Washington, when then-Vice President Dick Cheney memorably remarked, "Deficits don't matter."

Trump campaigned heartily on a spending splurge and nothing he's said since his shocking election suggests he will reverse course. Republican leaders on Capitol Hill, meanwhile, are papering over divisions with the man who frequently tossed party orthodoxy aside on the trail.

"There is now a real risk that we will see an onslaught of deficit-financed goodies — tax cuts, infrastructure spending, more on defense — all in the name of stimulus, but which in reality will massively balloon the debt," said Maya MacGuineas, president of the Committee for a Responsible Federal Budget.
Everything he does is going to explode the deficit and debt, from tax cuts to building the wall to deporting millions to the infrastructure grift to his cronies to dismantling ACA and so on, and what makes it even better is that they will attempt to gut SS and Medicare at the same time under the guise that they are unaffordable. Ryan's already lying about that shit:
When Baier asked Ryan about the Republican plans for entitlement reform, the Speaker took the conversation back to their plans to repeal Obamacare and said:

If you're going to repeal and replace Obamacare, you have to address those issues as well. … Medicare has got some serious issues because of Obamacare. So those things are part of our plan to replace Obamacare.

Ryan went on to say that, "Because of Obamacare, Medicare is going broke." That is a lie.

Health reform, along with other factors, has significantly improved Medicare's financial outlook, boosting revenues and making the program more efficient. The HI trust fund is now projected to remain solvent 11 years longer than before the Affordable Care Act was enacted.

In other words, repealing Obamacare would mean that Medicare would become insolvent 11 years earlier than is currently projected by those who manage the Medicare trust fund (here is a link to their latest report). In terms of timing, it is important to note that right now the trust fund projects that Medicare will remain solvent until 2028. If Obamacare is repealed, that happens in 2017. So the plan is to roll back the savings that extended its solvency and simultaneously generate fear that the program needs to either be privatized or begin reducing benefits to current seniors.
Democrats should do everything in their power to protect SS and medicare, but I doubt they will be able to do anything because the Republicans will either use reconciliation to do these things without requiring the super-majorities they demanded of everything in the Obama era (I know they can do tax cuts, but am unsure if they can do medicare and SS reform that way), and if the Democrats filibuster, I have no doubt they will nuke the filibuster. They feel emboldened.
And if they do that, the only thing Democrats can do is oppose vocally and try to insert poison pills. Like, for example, any changes they make to Medicare and SS can not godfather current recipients. If privatization is so good, the people who de facto voted for it, our selfish elders, should get to experience it for themselves. None of this phasing it in bullshit so the people currently on get to benefit as everyone always has while those younger than them get fucked.
All Democrats should be focused on doing is fighting and shouting No. And, btw- that's how we will find who the real leaders in the party are and who we should follow on our way forward.