We're going to be hearing a lot of talk about health savings accounts over the next eighteen months as the panacea to our healthcare crisis.  The Republican wonk solution to healthcare spending is to diagnosis the problem as Americans have it too good and too easy and we don't shop enough with our own money so we're frivolous and we don't use our power to say no to exorbitant prices to drive down pricing.
The solution is catastrophic coverage with fairly low actuarial value which means very high out of pocket maximums combined with health savings accounts to buffer a one off event for a year or two where spending is above the out of pocket maximum.  Personally, I am not a huge fan of High Deductible Health Plans(HDHP) with Health Savings Accounts as a general policy solution.  HDHP are good for people who have very strong reasons to believe that they are healthy and have sufficient access to resources to afford the high deductible after they got hit by a meteor.  A HDHP is good for my family.  A HDHP is horrendous for my younger sister as she has a pair of pre-existing conditions that can only be managed and never cured.
But I digress.  I want to look at the political selling point of an HSA.  First, we need to look at the distribution of healthcare expenditures in the US.  I am grabbing this chart via the Incidental Economist from the NIHCM.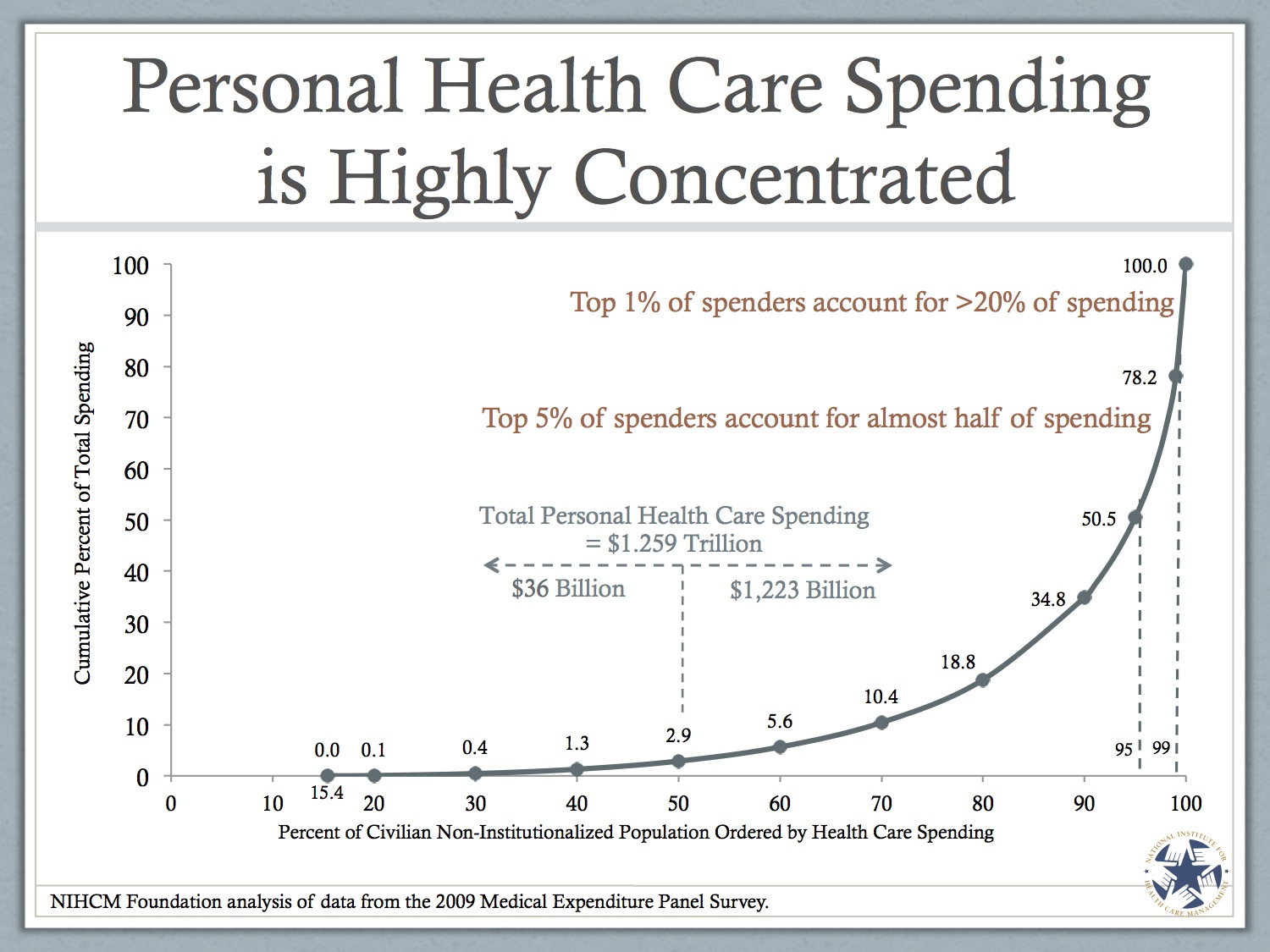 Averages disguise constant outliers.
The political play for an HSA regime is fairly straightforward. The offer would be the US government would fund everyone with an HSA a flat amount every year be it $1,000, $1,500, $2,000 or whatever. And then there would be a super high deductible wrap around plan.
The play is that most people in most years barely touch the medical system. Of the people who do touch the medical system, most of them are fairly cheap where all of their expenses excluding coffee and parking could be covered by the HSA with a bit left over. For the people who are expensive and have expenses that are above the federal HSA contribution level there are a couple of classes. The first class are people who have truly random, non-recurring expensive but not too expensive one-off events that could be covered by the combination of previous years' balances in the HSA, personal contributions to the HSA and either cash or short term debt.
Everyone in this scenario is seen to be better off than a high actuarial value coverage scenario as they see much lower premiums for insurance that most of the time they will never use.
The two sets of losers in this environment are people with expensive long term conditions. A hemophiliac will be hitting their catastrophic deductible every year. An individual with Multiple Sclerosis will hit their deductible on drug costs alone by the first time they have to mow the lawn in Maine. The FSA contribution is a joke. Having a long term, high cost chronic condition means they are effectively being taxed for being ill and unlucky. The other group of people who are losers in this scenario are people who had a one-off near catastrophic event a few years ago. They covered their deductible by draining their HSA. And then they have another catastrophic event with minimal reserves.
Pain in an HSA world is concentrated most among the least lucky. Pain in the ACA world hits the lucky as they throw in more to cover the unlucky and unwell. The political bet is the temporarily lucky and healthy are a much bigger and powerful coalition than the unlucky or unwell.