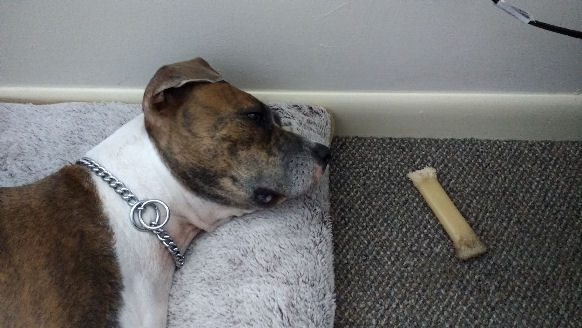 From commentor Wade S, concerning his Boo:
Choose a caption:

"Stunned by political reverses, Office Dog develops thousand-yard stare."

"Office Dog maintains attitude of imperturbable equanimity."
**********
What's on the agenda as we buckle down for the fight going forward?
It took me a long time to gather the energy just to watch the video of Hillary's first public appearance since the election, a (pre-scheduled) speech to the Children's Defense Fund annual gala. It's worth the emotional effort, although if you're a crier like me you may want to do so in private:
From the CNN transcript:
… THE ARC OF THE MORAL UNIVERSE IS LONG BUT IT TENDS TOWARD JUSTICE. NOW SOMETIMES IT CAN FEEL AWFULLY LONG, BELIEVE ME I KNOW, BUT I ALSO KNOW IT DOES THAT. IT BENDS TOWARDS JUSTICE BECAUSE PEOPLE LIKE MARIAN [AND] SO MANY OF YOU, AND THE PEOPLE IN THIS AUDIENCE I'VE HAD THE PRIVILEGE OF WORKING WITH AND ADMIRE FOR SO MANY DECADES, AND YOU REFUSE TO STOP PUSHING AND WHEN YOU GET KNOCKED DOWN, YOU GET BACK UP.

I OFTEN QUOTE HER WHEN SHE SAYS THAT SERVICE IS THE RENT WE PAY FOR LIVING. YOU DON'T GET TO STOP PAYING RENT JUST BECAUSE THINGS DON'T GO YOUR WAY. I KNOW MANY OF YOU ARE DEEPLY DISAPPOINTED ABOUT THE RESULTS OF THE ELECTION. I AM TOO, MORE THAN I CAN EVER EXPRESS BUT AS I SAID LAST WEEK, OUR CAMPAIGN WAS NEVER ABOUT ONE PERSON OR EVEN ONE ELECTION. IT WAS ABOUT THE COUNTRY WE LOVE AND ABOUT [BUILDING] AN AMERICA THAT IS HOPEFUL, INCLUSIVE AND — I DIDN'T GET INTO PUBLIC SERVICE TO HOLD HIGH OFFICE. [APPLAUSE] 45 YEARS AGO THAT WOULD HAVE SEEMED AN ABSOLUTE INCREDIBLY LONG HEADED VIEW BUT I DID DECIDE TO BE AN ACTIVIST AND USE MY LAW DEGREE TO HELP KIDS. EVERY CHILD DESERVES TO HAVE THE OPPORTUNITY TO LIVE UP TO HIS OR HER GOD-GIVEN POTENTIAL AND I BELIEVE THE MEASURE OF ANY SOCIETY IS HOW WE TREAT OUR CHILDREN.

AS WE MOVE FORWARD INTO A NEW AND IN MANY WAYS UNCERTAIN FUTURE, I THINK THAT MUST BE THE TASK FOR AMERICA AND OURSELVES. DESPITE THE PROGRESS, AND WE HAVE MADE PROGRESS UNDER PRESIDENT OBAMA, MORE THAN 31 MILLION CHILDREN STILL LIVE AT OR NEAR POVERTY IN AMERICA. AND I HOPED TO HAVE HAD THE OPPORTUNITY TO BUILD ON THE PROGRESS THAT PRESIDENT OBAMA HAS MADE BECAUSE I KNOW THAT WE ARE STRONGER TOGETHER WHEN WE ARE LIFTING EACH OTHER UP…

… SO WE HAVE WORK TO DO AND FOR THE SAKE OF OUR CHILDREN AND OUR FAMILIES AND OUR COUNTRY, I ASK YOU TO STAY ENGAGED, STAY ENGAGED ON EVERY LEVEL. WE NEED YOU. AMERICA NEEDS YOU. YOUR ENERGY, YOUR AMBITIONS AND YOUR TALENT. THAT'S HOW WE GET THROUGH THIS. THAT'S HOW WE HELP TO MAKE OUR CONTRIBUTIONS TO BEND AT THE ARC OF THE MORAL UNIVERSE POURED JUSTICE. I KNOW THIS IS AN EASY, I KNOW THAT OVER THE PAST WEEK A LOT OF PEOPLE HAVE ASKED THEMSELVES WHETHER AMERICA IS THE COUNTRY WE THOUGHT IT WAS. THE DIVISIONS LAID THERE BY THIS ELECTION RUN DEEP BUT PLEASE LISTEN TO ME WHEN I SAY THIS. AMERICA IS WORTH IT. OUR CHILDREN ARE WORTH IT. BELIEVE IN OUR COUNTRY, FIGHT FOR OUR VALUES AND NEVER, EVER GIVE UP BECAUSE OVER THE PAST TWO YEARS I HAVE MET SO MANY PEOPLE WHO REAFFIRMED MY FAITH IN OUR COUNTRY, ALL KINDS OF PEOPLE…

NOW I CAN'T AND YOU CAN'T GO BACK IN TIME AND HUG ALL THOSE CHILDREN THAT PRECEDED US BUT WE CAN DO THAT NOW. WE CAN REACH OUT TO MAKE SURE EVERY CHILD HAS A CHAMPION BECAUSE I AM AS SURE OF THIS IS ANYTHING I HAVE EVER KNOWN. AMERICA IS STILL THE GREATEST COUNTRY IN THE WORLD. THIS IS STILL THE PLACE WHERE ANYONE CAN BEAT THE ODDS. IT'S UP TO EACH AND EVERY ONE OF US TO KEEP WORKING TO MAKE AMERICA A BETTER AND STRONGER AND FAIRER…
As another Democratic "loser" once said: For all those whose cares have been our concern, the work goes on, the cause endures, the hope still lives, and the dream shall never die.