Alrighty, folks. It's been two weeks because I hated everything last Friday (I still do, I'm just coping better) so here comes a big update. Two quick things:
1.) I am paying an electrician $75.00 an hour to send an underling to my house to do things. Ask me how many shits I give about working class white voters right now.
2.) I went to the house early this morning, and my dad was standing in the front yard and before I made it two steps out of the car he said "J.G. we've run into a big problem…" and before he could say anything else I got back in the car. I'll explain the problem later.
First things first, a picture of the front porch: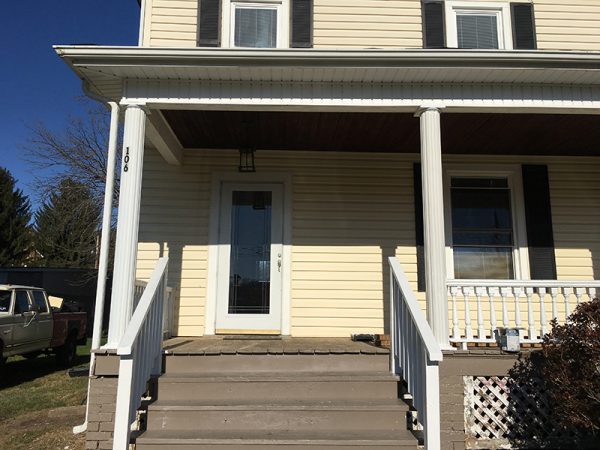 As you can see, everything has been powerwashed and is Nazi father with a white glove clean, a new porch light has been hung, the railing has been scraped and repainted, the stairs have been fixed and strengthened and painted, and we have gone from a full white lattice and brick to gray brick and white lattice.
Moving into the entrance, to save money, we moved the light fixture that had been in the living room to the entrance way, and everything has been rewired and new outlets have been installed: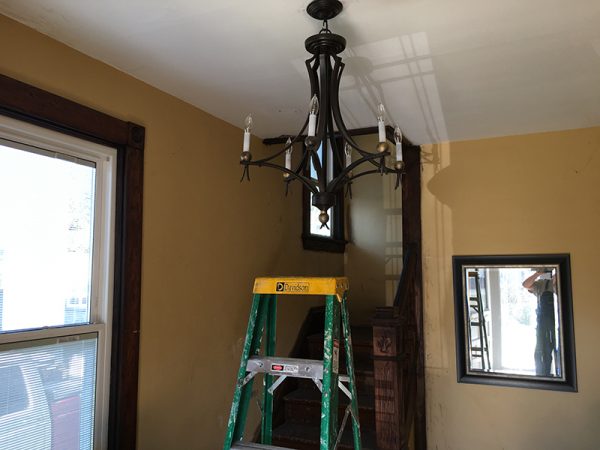 Nothing has been done in the living room yet, so on to the dining room and kitchen. As a reminder, this was the living room originally: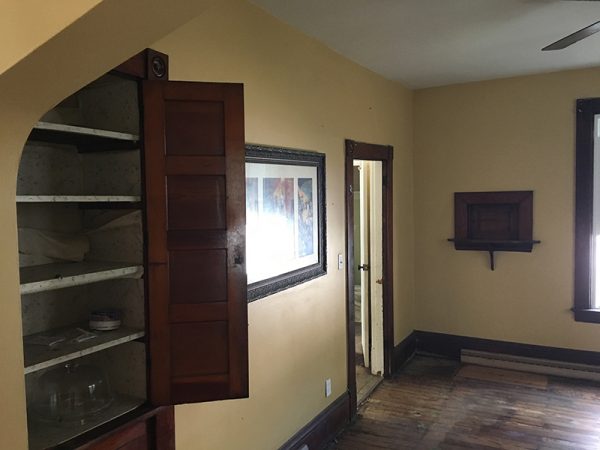 This was the living room two weeks ago: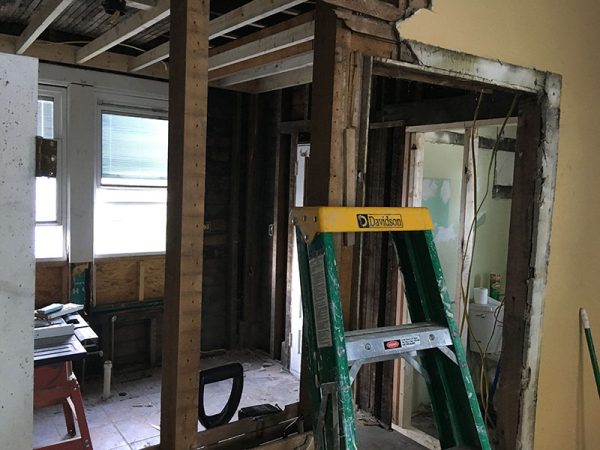 And here is the living room looking into the kitchen now: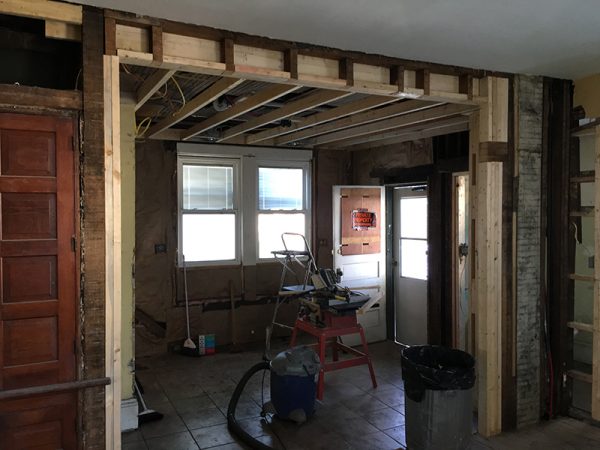 As you can see (and in some cases can not), the ceiling and supports have been rebuilt, the wall has been completely torn out, and the basement has been jacked up and reinforced and is sturdy as can be. The very noticeable droop (inch or more) that was where the dining room and kitchen met is gone, and now I doubt a soda can would even roll unless pushed. Where the wall once was, we will put in the bar with drop lighting and stools on the dining room side, with cabinets on the kitchen side. Here is another view, a few stepos forward showing the backdoor and where the old door to the 1/2 bath/pantry/laundry room used to be: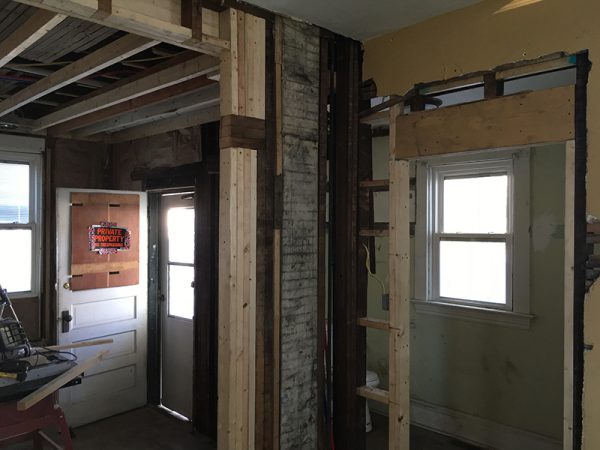 And here is a picture with my back catty corner to the new door aiming into the kitchen and showing the stairway to the basement: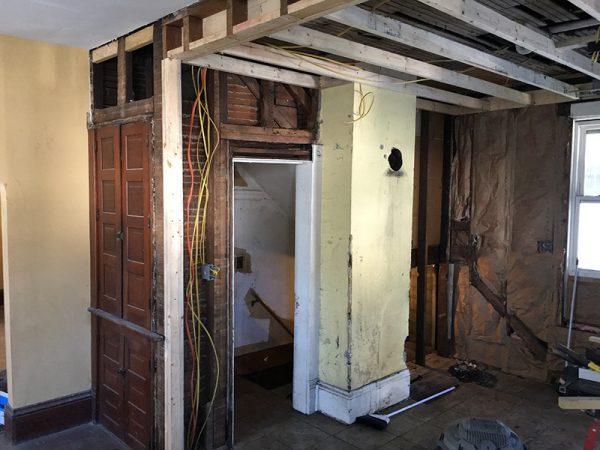 Now if you look closely at the wall between the stairway and the outer house wall to the right, you will see a hole in the wall. That was today's "big problem." That hole was supposed to be the vent into the chimney for the custom hood we are building for over the stove. Unfortunately, we learned today that the chimney is completely clogged and jam packed with creosote or coal dust or who knows god what.
I've mentioned that besides my dad, the man doing the bulk of the work is the brother of a friend of the family, and he is sort of a traveling craftsman. He was also apparently ripped out of a Dickens novel, because when he was younger he was a chimney sweep, and he tried unclogging it and it wasn't happening. So, since we fortunately do not have the walls up yet, we're just running the vent another way.
Onward and upward. My office, save the flooring and the construction of the custom desks, is not finished. Here's the original (well, after the carpet and shit was dragged out) that I don't think I have ever showed you: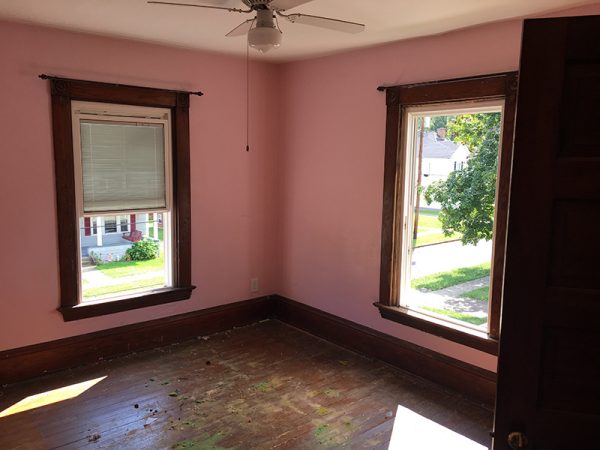 Here it was two weeks ago: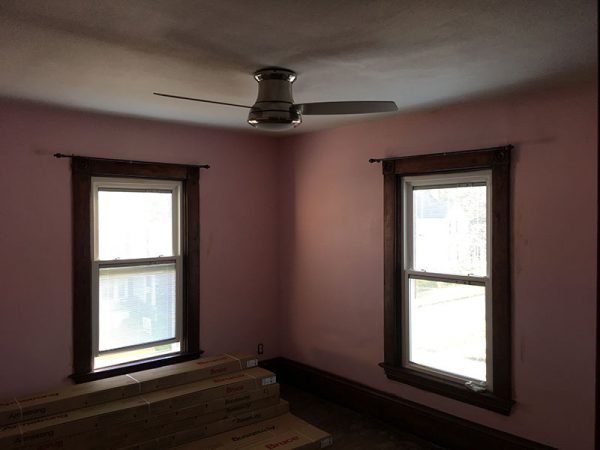 And here it is now, freshly painted in a color I like called "Clean Green":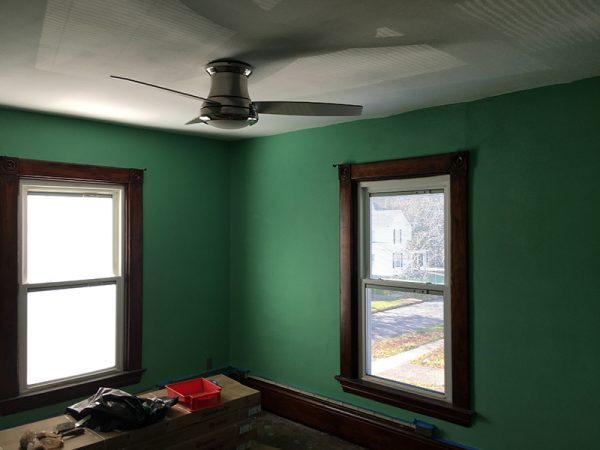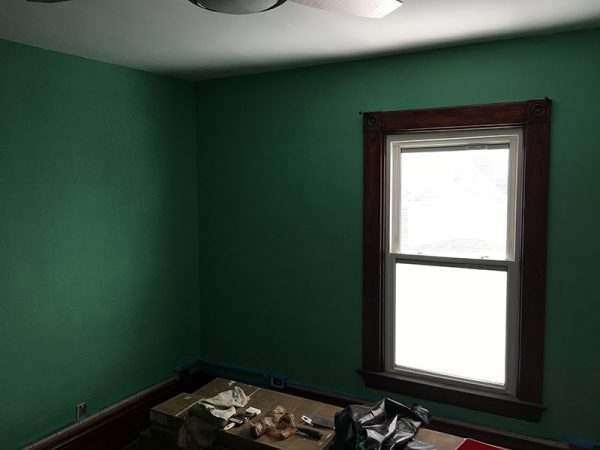 As you can see, everything is clean and fresh and I think soothing with a modern look with the fan, which is kind of what I wanted considering this room will be packed with electronic gear. You can see that power strips have been run all along the base of the wall, so I will never be looking for an outlet or having to deal with extension cords, etc. And if you want to visualize, this is the desk I will be making: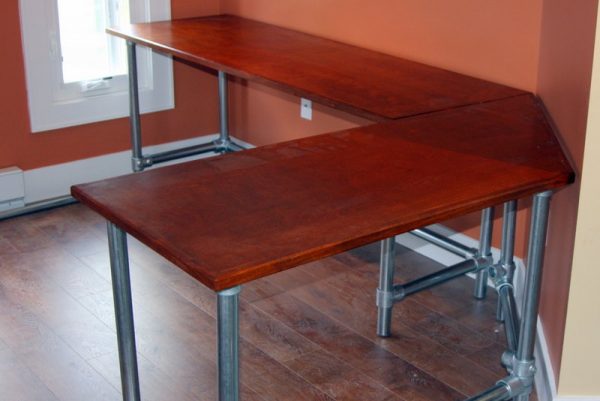 I very much like it, so if you don't like the color you can just go ahead and eat a bag of salted dicks and paint your own god damned office whatever shit color you want (I warned you I am still in a mood).
The woodwork looks amazing, too: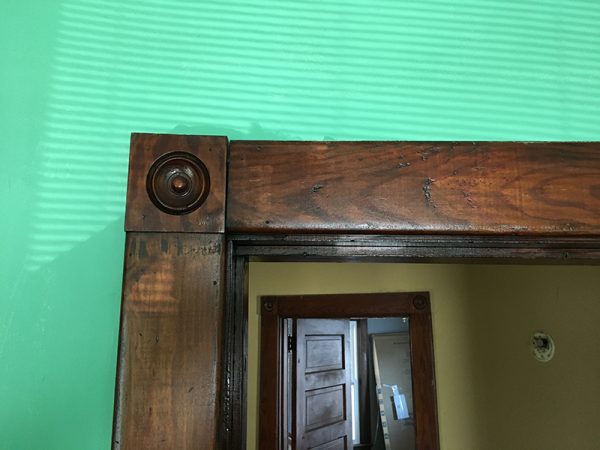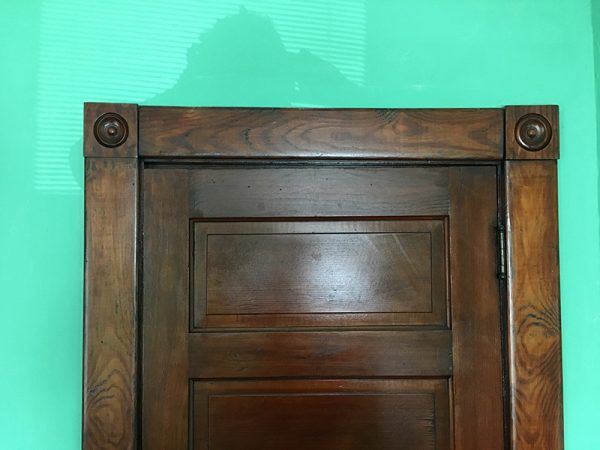 Finally, we are going to enter into a space you all have never seen! Are you excited? I know you are. The third floor consists of two rooms of equal size with windows facing the front and the rear of the house. I only have several before pictures because it was so disgusting and smelled so bad I didn't care to stay there longer (this was before the carpet was ripped out everywhere and you can imagine the smell):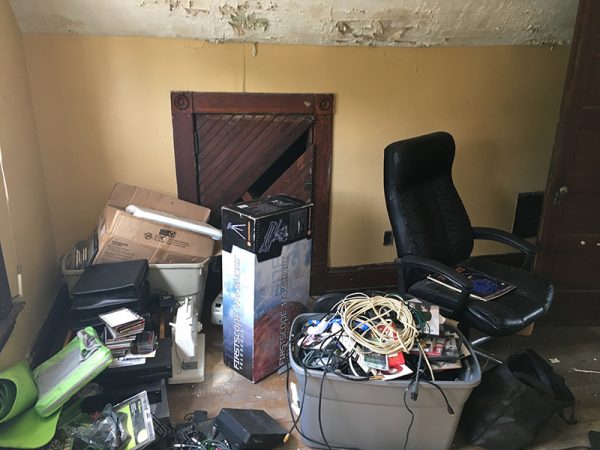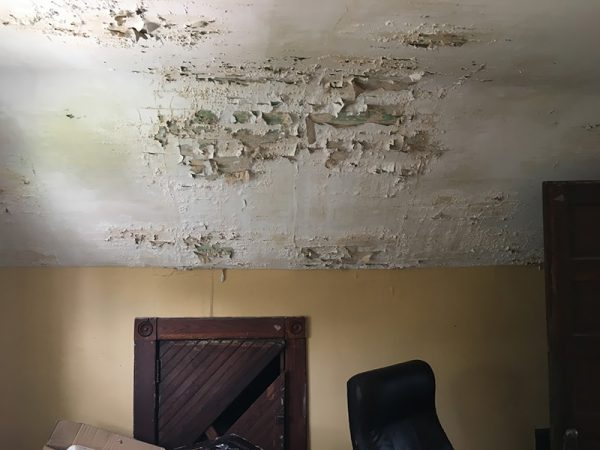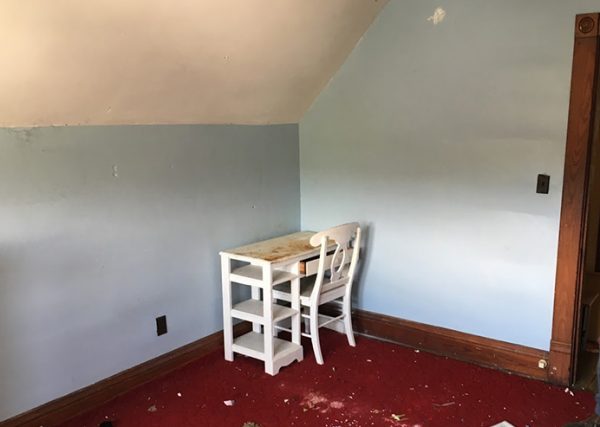 NASTY!
One of the two rooms has been completed except for flooring, and here it is: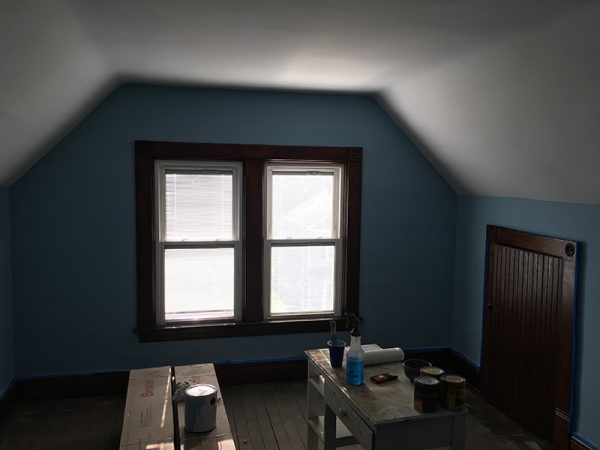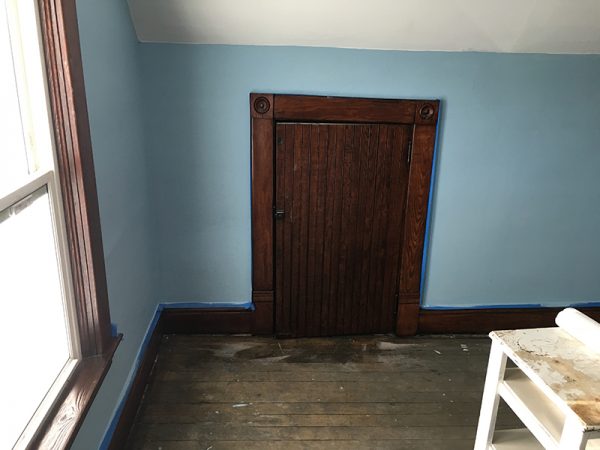 And this picture shows the woodworking in that room all cleaned up and shoots across the hallway into the second room on the third floor: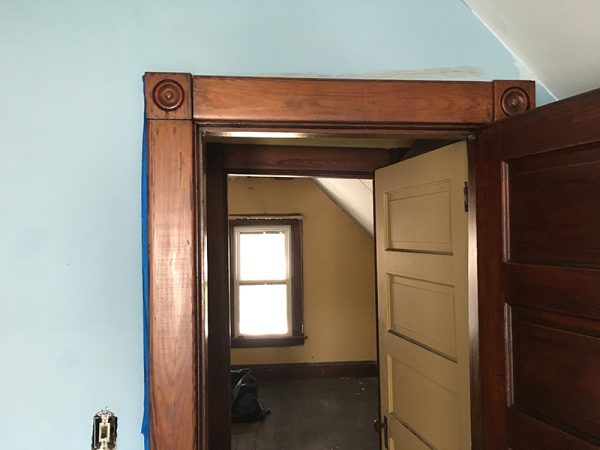 I also very much like the color here, although I am not as defensive as I am about the green. I mean, it's blue. What kind of freak hates blue? The third floor is going to be "emergency bedrooms" for things like homecoming and holidays with a twin bed in each, and one will probably serve as a storage area. I've also reached out to several friends last Wednesday (something happened on Tuesday) who work with LGBT groups and a friend who works with abused women (although I suppose a lot of women might be leery about considering with a white dude in bumfuck WV) and stated that they can be used as safe places for people in crisis, in case someone is in a dangerous situation and needs a place quick. That's one of the nice things about having a blog- I've been able to connect with a lot of people in the right places to be able to reach out to lend a hand if needed. If any of you know of anyone that is in that kind of toxic situation and needs a safe place for a while, you know where to ask, btw.
So that is where we are now. Lots of progress.